Place
Frances E. Willard House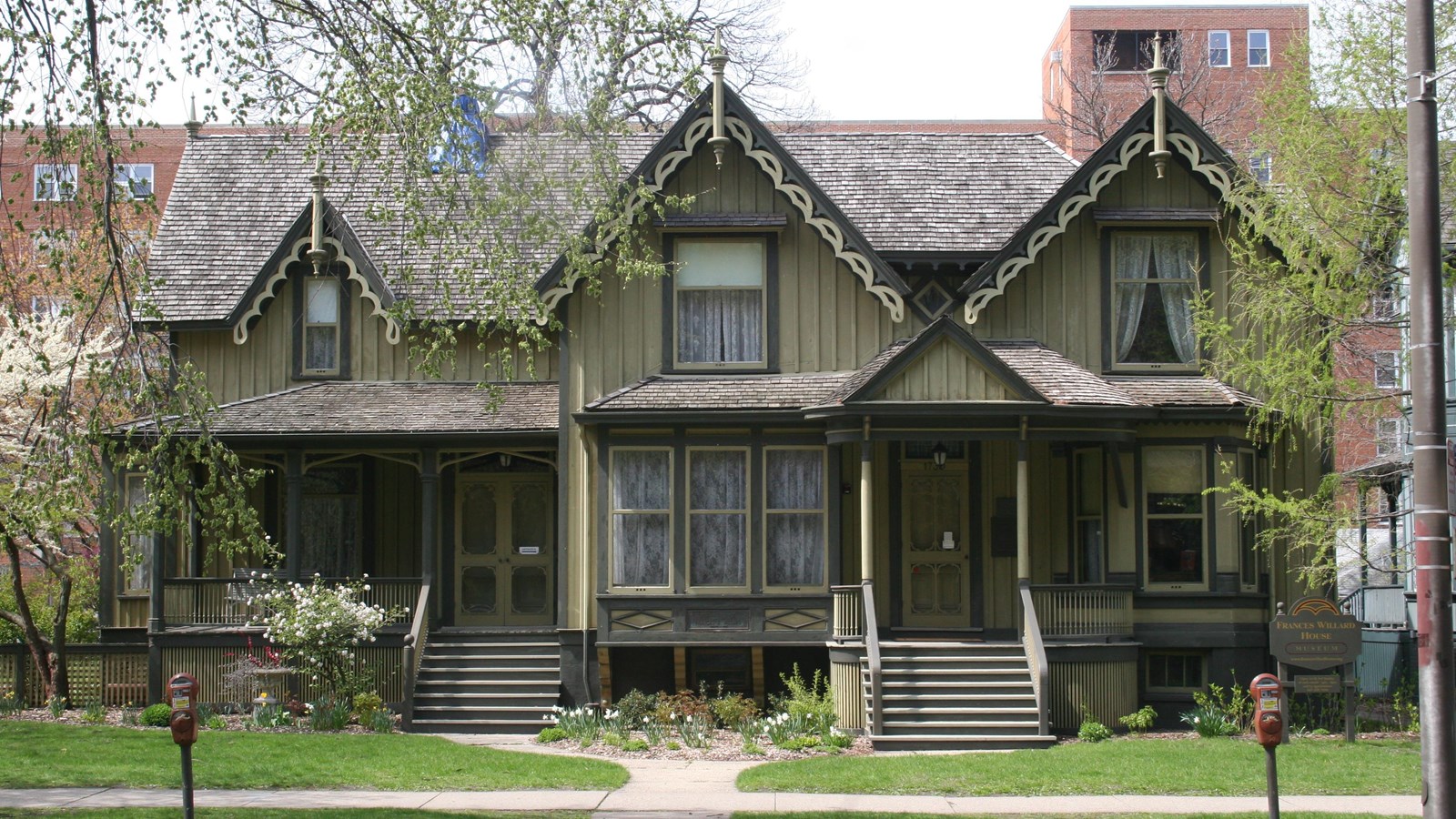 Location:
1730 Chicago Ave., Evanston, IL
Significance:
Social/humanitarian
Designation:
National Historic Landmark
Patterned after a design by Andrew Jackson Downing and built in 1865, Frances Willard's house in Evanston, Illinois, is an example of the Carpenter Gothic style. The vertical board and batten siding and gabled front are hallmarks of the style. It was L-shaped in plan initially and Willard added onto it several times. Proceeds from the sale of her autobiography financed one such expansion in ca. 1890. She installed the bay windows in the façade at that time.

Originally known as the "Rose Cottage" for the roses planted around the house, Willard renamed her home the "Rest Cottage." However, little rest took place there. The dwelling served as an informal headquarters of the Woman's Christian Temperance Union (WCTU), which Willard led as Corresponding Secretary and then as president. It also was a boarding house for WCTU workers.

Willard's reform efforts helped transform the lives of women in nineteenth-century America. She became the first female president of the Evanston College for Ladies in 1871. When the college merged with Northwestern University, Willard became the first Dean of Women and Professor of Aesthetics. In 1873, she helped found the Association for the Advancement of Women. In 1874 she was secretary of the Women's Christian Temperance Union and five years later in 1879 she became its president. In 1883 she founded the World's Woman's Christian Temperance Union (WWCTU).

The Rest Cottage and its furnishings remain as they were before Willard's death on February 18, 1898.

The board and batten, two-story house is painted pearl grey and has white trim. The front of the house has two columned porches. Three small porches lead to other entrances, and the second floor has a balcony on the rear. The three gables on the main facade have decorative trim and a turned finial in the center. There are seventeen rooms in the house, most with oak and walnut flooring.

The house was designated a National Historic Landmark on June 23, 1965. When the National Register of Historic Places was created on October 15, 1966, the house was added to the Register. It was documented by the Historic American Building Survey (HABS) in 1967.

Read the full nomination.
View the HABS documentation.
Learn more about the National Register of Historic Places, the National Historic Landmarks program, and HABS.
Last updated: September 1, 2020