Place
Fort Yellowstone Cemetery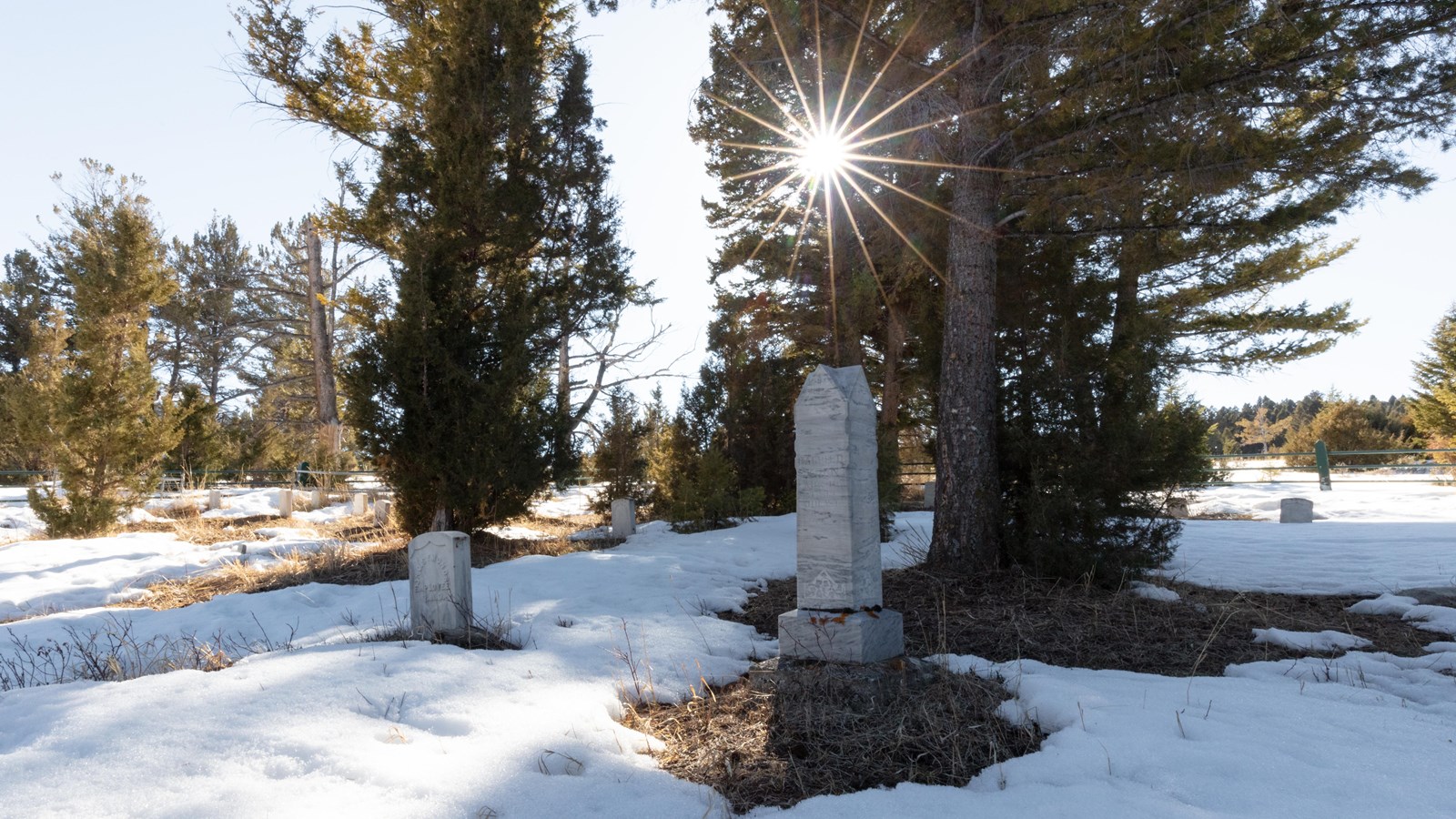 Location:
Mammoth Hot Springs
Designation:
National Historic Landmark (2003)
The Fort Yellowstone Cemetery is part of the Fort Yellowstone National Historic Landmark and is located just south of Mammoth Hot Springs.

Although Yellowstone National Park was established in 1872 as the country's first national park, the National Park Service was not created until 1916. To protect the park's natural features and wildlife, the U.S. Army was dispatched to Yellowstone in 1886, establishing Camp Sheridan. After enduring five cold, harsh winters in temporary frame buildings at the foot of the Mammoth Hot Springs, Congress appropriated $50,000 for a permanent post (later known as Fort Yellowstone), which served as the headquarters for the U.S. Army until their departure in 1918. During their time in Yellowstone, through carrying out day-to-day administrative tasks, the military commanders promulgated rules and regulations that constituted a philosophy of conservation, defining the nature, characteristics, and management of national parks.

In 1888, two years after the U.S. Army arrived in Yellowstone, the Fort Yellowstone Cemetery received its first burial. At least 54 people were buried in the cemetery between 1888 and 1916, most of them military personnel, civilian employees of the army, and their relatives.

At the time, life in a remote and rugged place like Mammoth Hot Springs was demanding, isolating, and had its challenges. Known causes of death of the individuals buried in the cemetery included natural causes; infections like pneumonia and scarlet fever; environmental causes such as drowning, falling, avalanche, hypothermia, or exposure; and from injuries caused by animals (including horses and a grizzly bear). 

In 1915, the cemetery was expanded and delineated by a fence of galvanized pipe built into concrete posts and a decorative gate, all of which still stand today. In 1917, 19 individuals (soldiers and civilian employees) were disinterred by the U.S. Army and transported and reburied in the Custer National Cemetery in the Little Bighorn National Monument in south-central Montana. Civilian employees of the army and relatives of military and civilian personnel were not relocated and are still buried in the Fort Yellowstone Cemetery.

Learn more about the history and other structures of Fort Yellowstone.
Last updated: March 29, 2021