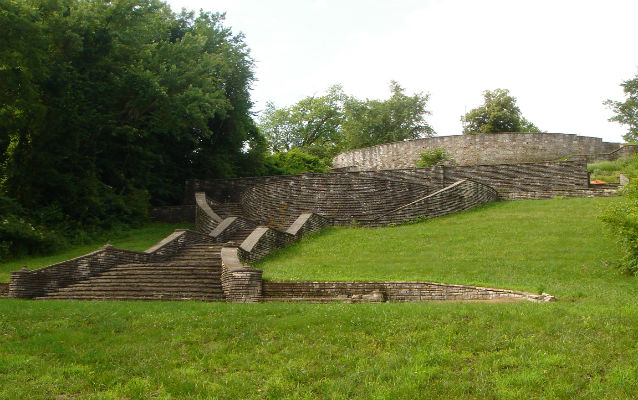 Quick Facts
Location:

Saint Louis, Missouri

Designation:

National Register of Historic Places

OPEN TO PUBLIC:

Yes

MANAGED BY:
Fort Belle Fontaine
is a
High Potential Historic Site
on the
Lewis and Clark National Historic Trail.
The expedition first camped on an island opposite Coldwater Creek on May 14, 1804. During 1805, Canton­ment Belle Fontaine was built on the south bank of the Missouri River at the mouth of Coldwater Creek by companies of the 1st U.S. Infantry under Lt. Colonel Jacob Kingsbury. The expedition visited the new fort on their return journey. On September 22, 1806, Ordway wrote that "towards evening we arived at Bell foun­tain a Fort or cantonement on South Side which was built since we ascended the Missouri & a handsome place. we moovd. a short distance below and Camped, the Company of Artillery who lay at this fort fired 17 Rounds with the field peaces the most of our party was Quartered in the Canonment." The next day they returned to St. Louis.
The original cantonment housed a government-operated trading post (or factory), until that function was transferred to Fort Osage and Fort Madison in 1808. By 1809, the post had deteriorated and relocation to a new site above a bluff began. The new Fort Belle Fontaine, completed in 1811, included 30 buildings, several blockhouses, a rectangular palisade, and an arsenal. In 1826, the second fort was abandoned and replaced by Jefferson Barracks, a new post located in St. Louis. The City of St. Louis acquired the Fort Belle Fontaine property in 1913 and built a detention home and training school for boys. In the 1930s the Work Progress Administration (WPA) built a "grand staircase" of stone steps from the riverbank to the top of the bluff, as well as trails and facilities. Now a St. Louis County park,
Fort Belle Fontaine
is listed on the National Register as an archeological site.
Lewis and Clark NHT Visitor Centers and Museums
Visitor Centers and Museums along the Lewis and Clark National Historic Trail