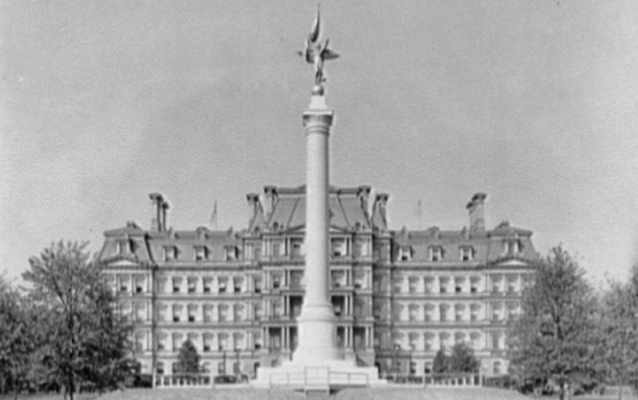 Quick Facts
Location:

Washington, DC

Significance:

Veterans Memorial

Designation:

Monument

OPEN TO PUBLIC:

Yes
Erected:
 1924
Sculptor:
 Daniel Chester French
Architects:
 Cass Gilbert and Cass Gilbert, Jr.
General John Pershing, commander of U.S. troops in WWI, was particularly proud of the First Division, which came to be known as "Pershing's Own."The soldiers of the First Division were the first American troops to arrive in France in 1917 and the last to leave Europe in September 1919. When the war was over, many wanted to honor the service and sacrifice of these men with the First Division Monument, an impressive pedestal listing the names of 5,516 First Division soldiers who gave their lives. Pershing said of the division that it had "a special pride of service and a high state of morale never broken by hardship nor battle," a quote inscribed on the pedestal of the monument.
More than 6,000 veterans and guests gathered to dedicate the First Division Monument on October 4, 1924. Major General Summerall served as grand marshal and spoke movingly of the spirit of the First Division. President Coolidge gave the dedication address and the ceremonies concluded with a benediction followed by the "Star-Spangled Banner" played by the massed bands of the First Division.
The First Division Monument was highly praised for both its design and its mission. For many years it was the only memorial in Washington dedicated to the soldiers of World War I. The Commission of Fine Arts described it as "the chief symbol of American valor in that war, a position borne out by the universal character of its design and location."

Read more about the creation of the First Division Monument.
Located adjacent to the White House and the Eisenhower Executive Office Building, the First Division Monument is auspiciously located. To view it at its best, visit in spring when the garden forms a "Big Red One" at the foot of the monument.  
Error: You have supplied an invalid NPMap ID. Please edit this element's data and check to ensure the id is correct.