Place
Farmers and Exchange Bank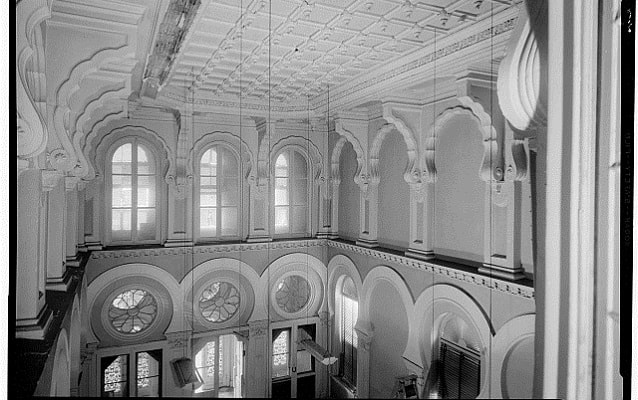 Location:
141 East Bay Street, Charleston, SC
The Farmers and Exchange Bank, a National Historic Landmark, is perhaps the only example of Moorish Revival architecture in America that evolved from one aspect of English Regency architecture and the only Moorish Revival building in Charleston. Designed by Edward D. Jones and Francis D. Lee, both notable Charleston architects, the building was completed in 1854. Typical of the eclectic Moorish style are horseshoe arches and the banded facade, produced by using two different varieties of brownstone from New Jersey and Connecticut. Its design is thought to have been influenced by illustrations in Washington Irving's The Alhambra, a volume which was published around the time the building was constructed. The exotic and romantic world of Moorish Spain was popularized by Irving in this book.

Inside the flat-roofed building was a high skylighted banking room. Spanish motifs are seen in this area as well in the elaborate plaster decorations. In contrast the rear wing of the building is built in a more conventional Classical Revival style. The building was threatened by demolition to become a parking lot until it was purchased and restored in 1970. In the early 1990s the building was rehabilitated for use as a restaurant.
Last updated: February 20, 2018