Place
Farm No. 266, Johnny Cash Boyhood Home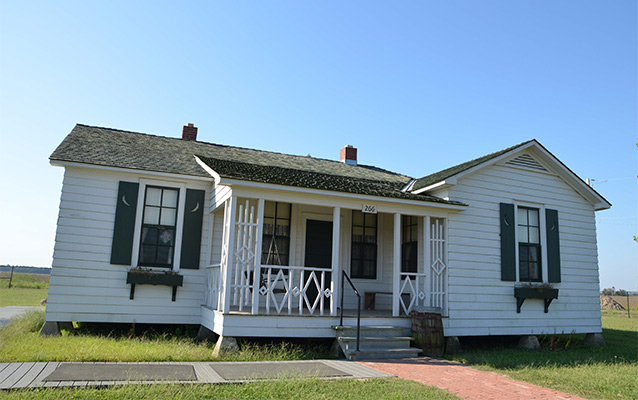 Location:
110 Center Drive Dyess, Arkansas 72330
Significance:
Architecture, community planning and development, politics/government, johnny cash, music
Designation:
Listed in the National Register – Reference number 100002000
Farm No. 266, also known as the Johnny Cash Boyhood Home, is a New Deal-era, five-room, farmhouse constructed by Federal Emergency Relief Administration (FERA) as part of the Dyess Resettlement Colony in Mississippi County, Arkansas. The house was originally the home of the Ray and Carrie Cash family that included American Country music legend, Johnny Cash. Farm No. 266 is located approximately a mile northwest of the colony center in a rural landscape that is currently used for farming. The Farm No. 266 House is significant for the property's association with the early life of J.R. "Johnny" Cash and the influence of the area on his later musical career. This property and the surrounding landscape had a profound impact on Johnny Cash's later career as seen in his later music and in his recounting of his childhood in Dyess. 

The restored five-room farmhouse is currently a house museum, the Johnny Cash Boyhood Home. The museum tells the story of the New Deal, the Dyess Colony, and Johnny Cash. The Johnny Cash Boyhood Home has a direct connection to the plight of  farmers in Arkansas during the Great Depression, New Deal-era efforts by the Federal government to assist those farmers, as well as the early musical influences on Johnny Cash, winner of numerous music industry awards; a member of the Country Music Hall of Fame, Gospel Music Hall of Fame, Memphis Music Hall of Fame, Nashville Songwriters Hall of Fame, Rockabilly Hall of Fame, and Rock and Roll Hall of Fame; recipient of the National Medal of Arts; and the Kennedy Center Honors.
Last updated: June 8, 2018