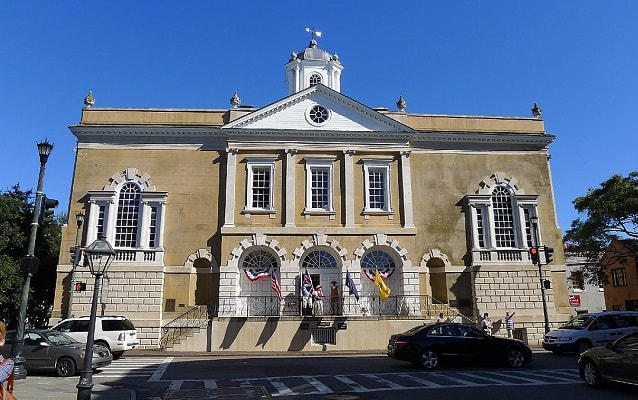 Quick Facts
Location:

122 East Bay Street, Charleston, SC

Designation:

National Historic Landmark

OPEN TO PUBLIC:

Yes
The Exchange and Provost, a National Historic Landmark, was a pivotal building in colonial Charleston, where many significant events of the American Revolution and early Federal period occurred. As Charleston became the South's largest port, the Exchange and Custom House was built from 1767 to 1771 for the expanding shipping industry, but also served as a public market and meeting place. After a protest meeting against the Tea Act, confiscated tea was stored here in 1774. The Provincial Congress of South Carolina met here the following year. During the Revolutionary War, the British used the building for barracks and the basement as a military prison. The State Legislature met here in 1788, after the Statehouse was destroyed. When George Washington visited Charleston on his southern tour of 1791, a grand ball was held for him on the second floor.
The symmetrical Georgian style building is two stories with an elevated basement and hipped roof. The central projecting pavilion on the main side of the building and tall Palladian windows are typical classical details of the Georgian period. Originally the building fronted the harbor, but during the past two centuries several blocks have been created by landfill between the Exchange and the water. In the 19th century the building was used mainly as a post office and customhouse. Port business was no longer conducted at the Exchange after a new United States Custom House was completed several blocks north of the Exchange in 1879. The Exchange was badly damaged by Union artillery fire during the Civil War, and by the 1886 earthquake.
In 1913, the building was deeded to the Daughters of the American Revolution (DAR) to be preserved as a historical monument. Since 1917 the second floor rooms have been used as offices for various federal agencies, while the main floor rooms serve as a meeting place for the DAR. The basement has been restored and is exhibited to the public as the British Provost Dungeon.