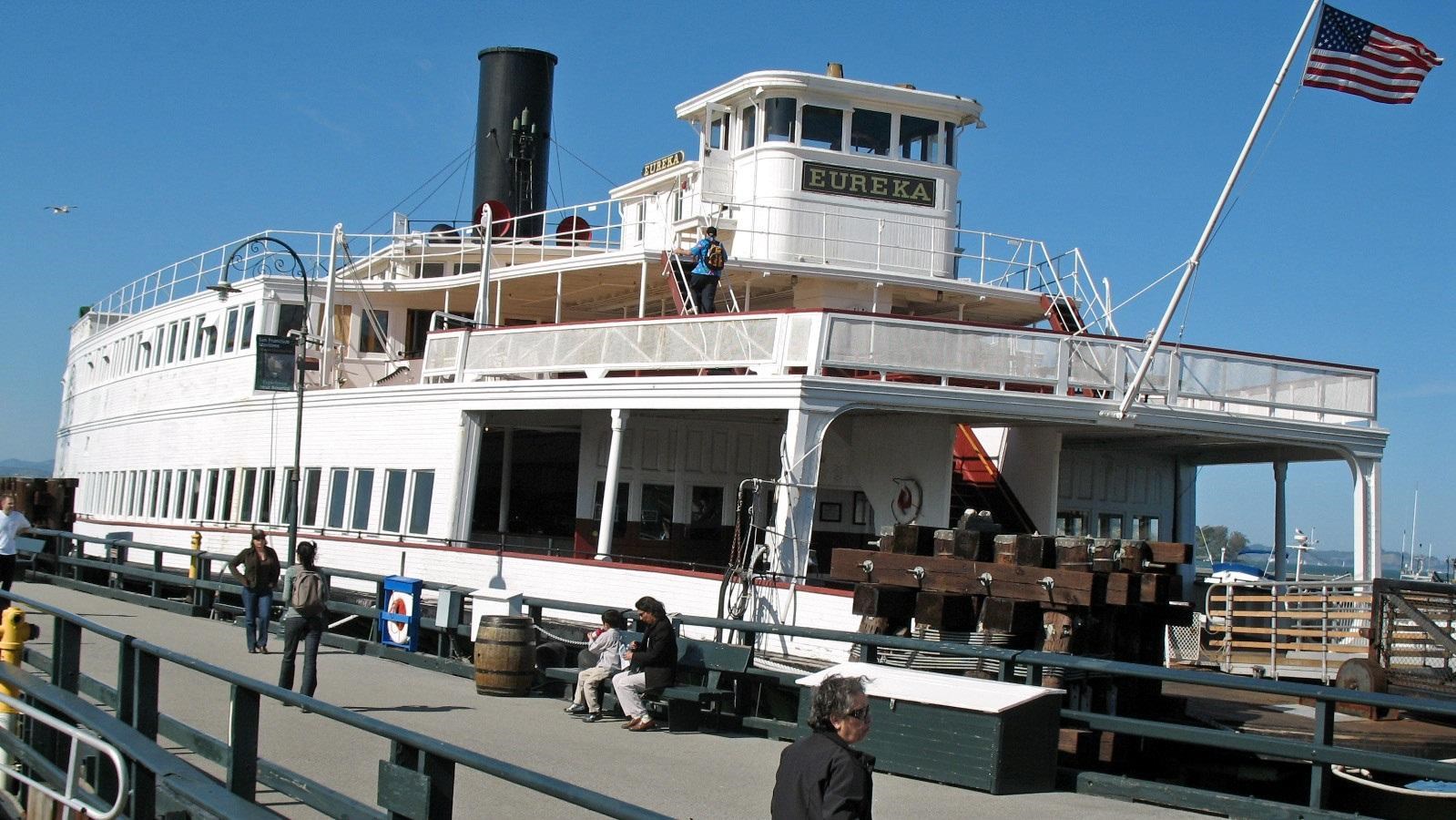 Location:
Located on the San Francisco Bay, at the foot of Hyde St. at the west end of Fisherman's Wharf in San Francisco.
Designation:
National Historic Landmark
The Eureka is the last remaining example of the fleet of ferry boats used in commuter service across the San Francisco bay. The ferry was built in 1890, at Tiburon, California, by John Dickie for the San Francisco and North Pacific Railway (SF&NPR), and originally named Ukiah to commemorate the railway's recent extension into that California city. A freight-car ferry, Ukiah was SF&NPR's "tracks across the Bay," ferrying trains from Sausalito to San Francisco. After WWI, Ukiah needed extensive repair, and shipwrights at the Southern Pacific yard labored for two years--eventually replacing all of its structure above the waterline. This kind of reconstruction was called "jacking up the whistle and sliding a new boat underneath." Re-christened Eureka, the vessel slid from the Southern Pacific yard as a passenger and automobile ferry (her present form) in 1923. As a passenger ferry, she could carry 2,300 passengers and 120 automobiles. At that time, she was the biggest and the fastest double-ended passenger ferry boat in the world--299.5 feet long, with an extreme width of 78 feet and gross tonnage of 2,420. Eureka was a member of the Northwestern Pacific fleet of ferry boats until 1941, when she had the dubious distinction of making the last Marin County run. During the war years, Eureka joined a number of bay ferries in the work of transporting troops from Camp Stoneman in Pittsburg, up the Sacramento River, to the Port of Embarkation piers in San Francisco. By the 1950s regular ferry service was limited to bringing railroad passengers from Oakland to San Francisco.
When Eureka's crankpin snapped in mid-crossing in 1957, the vessel was removed from service. In October of 1999, Eureka entered San Francisco Drydock for a $1 million restoration project focusing on the vessel's superstructure--the above-water portions of the vessel. A significant portion of that restoration was the replacement of the boat's "kingposts"--four large wooden structures which support the paddlewheels and upper decks. Eureka's 1890 "walking beam" marine steam equipment is the only operating example of this once-common engine in North America.

The Eureka, a Naitonal Historic Landmark, is located on the San Francisco Bay, at the foot of Hyde St. at the west end of Fisherman's Wharf in San Francisco and is part of the National Park Service's San Francisco Maritime National Historical Park. 

Discover more history and culture by visiting the World War II in San Francisco Bay Area travel itinerary.
Last updated: September 3, 2020