Place
Enfield Shaker Museum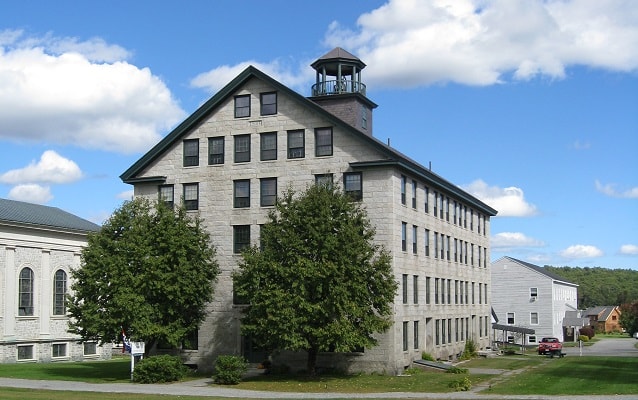 Location:
Rte 4A, Enfield NH
Significance:
Religious Community in New Hampshire
Designation:
National Register of Historic Places
The Shaker community of Enfield, New Hampshire was established in 1793 on the western bank of Lake Mascoma. While it was founded in the late 18th century, many of its significant buildings were not constructed until the mid-19th century. These buildings are known for their sophistication and the dynamic use of stone masonry techniques, specifically the use of granite. Granite was not previously found in early 19th-century New England architecture.
The Enfield community, like all Shaker societies, was divided into separate groups - the Church, North families, and South families. Ranging anywhere from 30 to 90 people, each family had its own set of communal buildings, such as dwellings or workshops. The largest Shaker residential building, the Great Stone Dwellinghouse, was built in 1837 as a part of the Church Family complex. The six-story building housed both men and women. Men and women each had a separate entrances and lived separately within the structure. While most members of the community resided in houses such as this, the religious leaders lived in the Ministry's shop, erected around 1870. Reflecting a stylistic convergence of Shaker and Victorian architecture, the Ministry shop is an unusually elaborate building within the community.
Like most Shaker villages, Enfield experienced a considerable decline in membership after the Civil War. Members found it difficult to compete with the industrial economy of the late 19th century. Consequently, much of the approximately 1200 acres was sold to the LaSalette family in 1927. In an attempt to preserve the history of the Shakers, the LaSalettes founded a religious mission at the site. The mission was dedicated to the traditions of communal and spiritual living. Under the LaSalettes several new buildings were built, such as chapels, beach houses and chalets. Today, the Enfield Shaker Museum interprets this complex and multi-faceted site.
Last updated: February 7, 2018