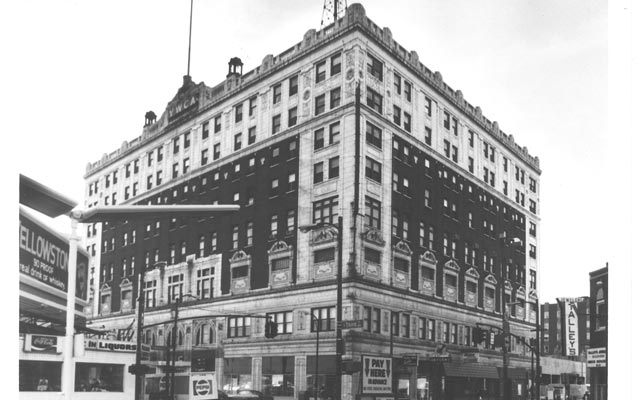 Quick Facts
Location:

604 South Third Street, Louisville, Kentucky

Significance:

Architecture, Engineering, LGBTQ

Designation:

Listed in the National Register of Historic Places

OPEN TO PUBLIC:

Yes

MANAGED BY:

Privately owned
Elks Athletic Club
listed in the National Register of Historic Places 7/16/1979 and additional documentation accepted 10/25/2016        
The Elks Athletic Club was listed in the National Register for its architecture and significance in the area of social history. New research has determined that the building is also significant as the location of the Beaux Arts Cocktail Lounge, which became a popular hangout for gay men during its eight years of operation. The following context evaluates the Beaux Arts in relation to gay and lesbian society and culture in Louisville between the end of World War II and the activism sparked by the Stonewall uprising in New York City in 1969.  
The Elks Athletic Club is an eight-story Neoclassical building situated at the southwest corner of South Third and West Chestnut streets in Louisville, Kentucky. The building has a squat profile with walls rising directly in vertical planes from the interior edges of sidewalks lining the two adjacent streets, in the manner of an Italian palazzo. Designed by Joseph and Joseph, one of Louisville's most prominent architectural firms during the early twentieth century, the Elks Club building was erected in 1924. It retains the majority of its original exterior features, many of the finishes in its principal interior spaces, including the entrance and main lobby, the principal first-floor corridors, and the main ball room on the second floor. The building suffered severe deterioration due to insufficient maintenance during the 1960s and 1970s and especially from 1985-2005, when it sat vacant. In 2005-08, a full-scale rehabilitation undertaken by City Properties Group (CPG), a Louisville based real estate development firm, conserved most surviving decorative elements while refurbishing and adapting the building for a combination of rental apartments and condominiums, rental spaces, and retail. The project qualified for the federal historic preservation tax incentives program.    
The Beaux Arts Cocktail Lounge opened for business on April 16, 1947, in two storefronts on the north side of the Henry Clay Hotel, one of several large hotels in downtown Louisville. Situated in the middle of the central business district, the lounge catered to residents of nearby apartment buildings, office workers, and hotel guests. The establishment served cocktails, offered food service, and hosted live musical performances some evenings. Guests of the Henry Clay likely provided the bar with many of its patrons, but it also attracted other customers. Located near theaters, restaurants, and retail stores, the Beaux Arts occupied a prime location in a busy urban center.  
Advertising offers strong indications of the Beaux Arts' acceptance of gay men. Beginning in 1948, advertisements published in the Louisville Courier-Journal daily newspaper employed the word "gay" in a manner that would have been well understood in LGTBQ subcultures but not among heterosexuals. On July 1, 1948, for example, the lounge billed itself as "the gay Beaux Arts." On July 22, an advertisement touted the Beaux Arts as offering "music [and] gayety." Although such statements might seem innocuous on the surface, historians of the gay and lesbian rights movement have demonstrated their significance in the context of samesex subcultures.
Link to National Register of Historic Places file 
Link to Additional Documentation
which discusses new research that has determined that the building is also significant as the location of the Beaux Arts Cocktail Lounge  
National Register of Historic Places Homepage