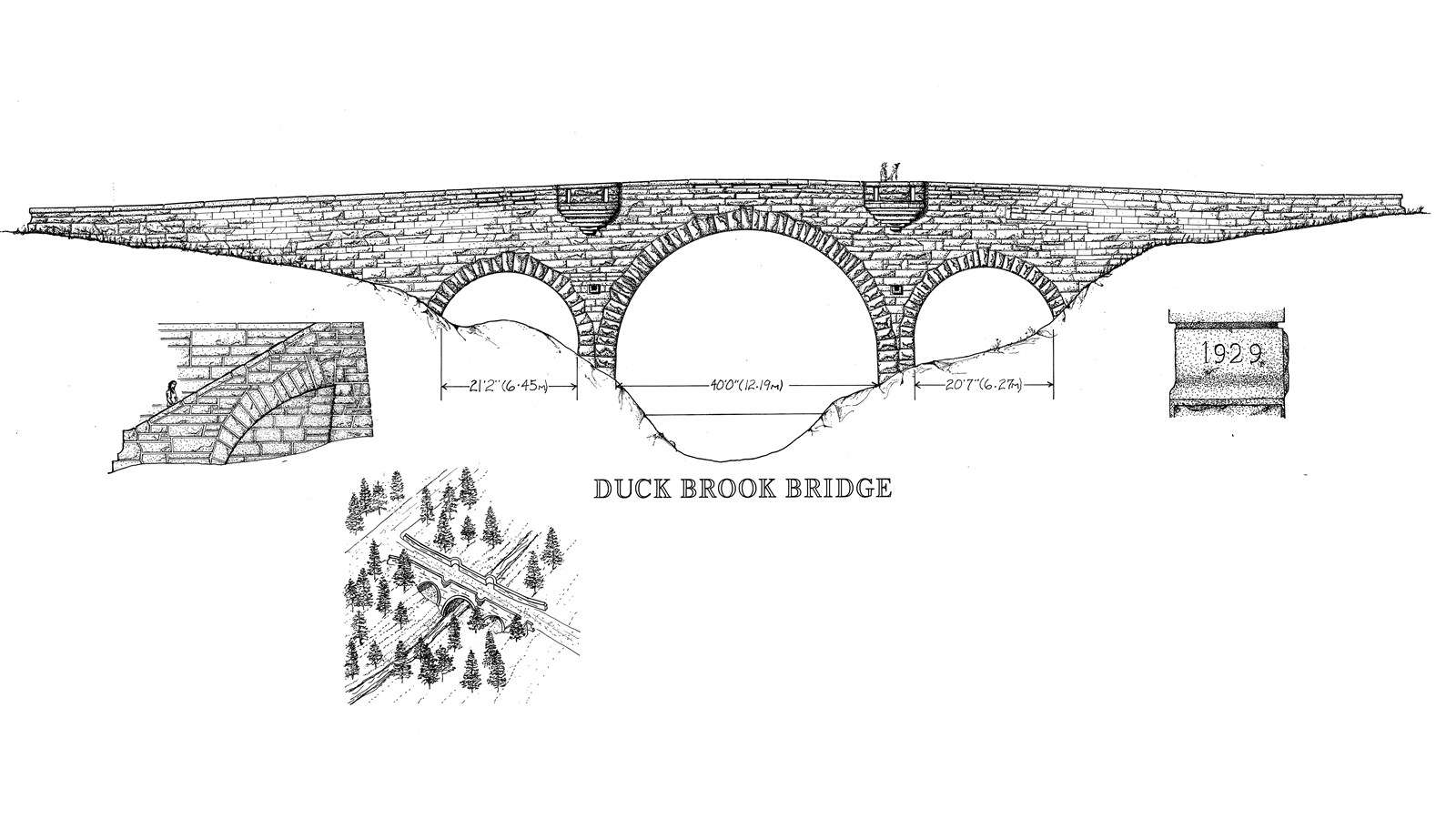 Duck Brook Bridge (1929) was the 11th of 17 bridges constructed along 57 miles of carriage road on Mount Desert Island between 1917 and 1940. It carries the Witch Hole Pond Loop portion of the Hulls Cove Road over Duck Brook to connect with New Eagle Lake motor road. John D. Rockefeller, Jr. considered this area the "grand northern terminus" of his carriage road system and planned magnificent vistas of Frenchman Bay from this road and the adjacent Paradise Hill Loop Road.

The Duck Brook Bridge is the most refined and sophisticated in appearance of all the carriage road bridges. It was the first of six bridges that Charles Stoughton designed on Mount Desert Island between 1928 and 1933. Beatrix Farrand designed the plantings around the bridge to frame views and enhance the setting.

The reinforced-concrete triple-arch bridge is 207-feet long, 43 feet at
its highest point. A semicircular central arch, with a 39-foot span, and side arches, 21-foot spans, are outlined by radiating voussoirs.

Because it affords a panoramic view of the bay, semi-circular lookouts were included on both sides of the bridge from the spandrel walls above the piers. A staircase on the upstream side provides a path down to the brook, providing a view of the bridge from below. Additional ornamental details include pierced parapets, distinctly patterned paving stones at each lookout, and coping stones with a smooth, bush-hammered finish. The stone work itself is polished and refined, with quarry-faced ashlar laid in broken-range coursing.  

The bridge was completed in 1929 at a total cost of $77,837.17.
Last updated: October 20, 2020