Place
Du-Good Chemical Laboratory Building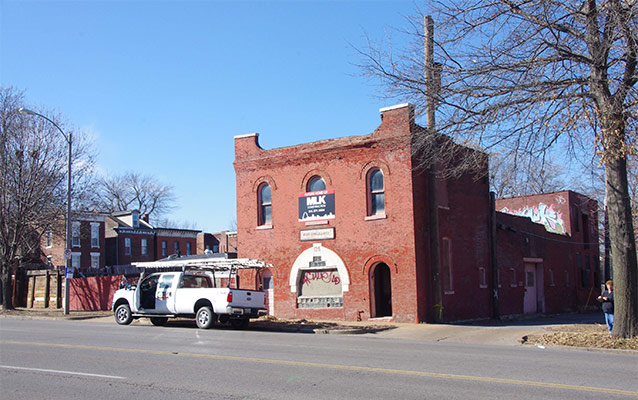 Location:
1215-23 S. Jefferson Ave St. Louis, MO
Significance:
black, invention
Designation:
Listed in the National Register – Reference number 100000911
The Du-Good Chemical Laboratory Building, located at 1215-23 South Jefferson Avenue, St. Louis (Independent City), Missouri is significant for its association with Dr. Lincoln I. Diuguid, the first African American to graduate with an advanced degree from Cornell University. He founded the Du-Good Chemical Laboratory (later the Du-Good Chemical Laboratories and Manufacturers, the Du-Good Chemical Manufacturers, and the Du-Good Microanalytical Chemical Laboratory), which occupied the building from 1947 through 2011. The Du-Good Chemical Laboratory Building is the most closely associated site with Dr. Diuguid and his career. In 1947, Dr. Diuguid converted the 1896, two-story, red brick veterinary infirmary building into his chemical research laboratory and small manufacturing facility which was headquartered in the building for more than sixty years. Dr. Diuguid started his business, the Du-Good Chemical Laboratory, after finding that the only jobs he was offered at the large chemical companies required him to "pass" as a white man and that he would not be allowed to hire other African Americans. In the face of this discrimination, he started his own company in St. Louis where he invented and manufactured the first water-free hand sanitizer and other household products, developed industrial processes, including one to plasticize aviation fuel, and conducted medical research, developing treatments for leukemia and cancer as well as anti-malarial drugs.
The building is also locally significant for Dr. Diuguid's role in the St. Louis African American community. He used his business to open up opportunities for young African Americans from the neighborhood and from his classes by offering jobs with the company and creating opportunities they may not otherwise have had. Dr. Diuguid was also a professor of chemistry at Stowe Teachers College (and later Harris-Stowe Teachers College), Saint Louis University and Washington University in St. Louis while inspiring thousands of students. He personally mentored hundreds of students (the majority of whom were African American) and scientists both in the schoolroom and in Du-Good Chemical Laboratory Building, where he often hired students as aids and tutored those who needed extra help in his classes.  
Last updated: June 13, 2018