Place
Double Arch Viewpoint and Trail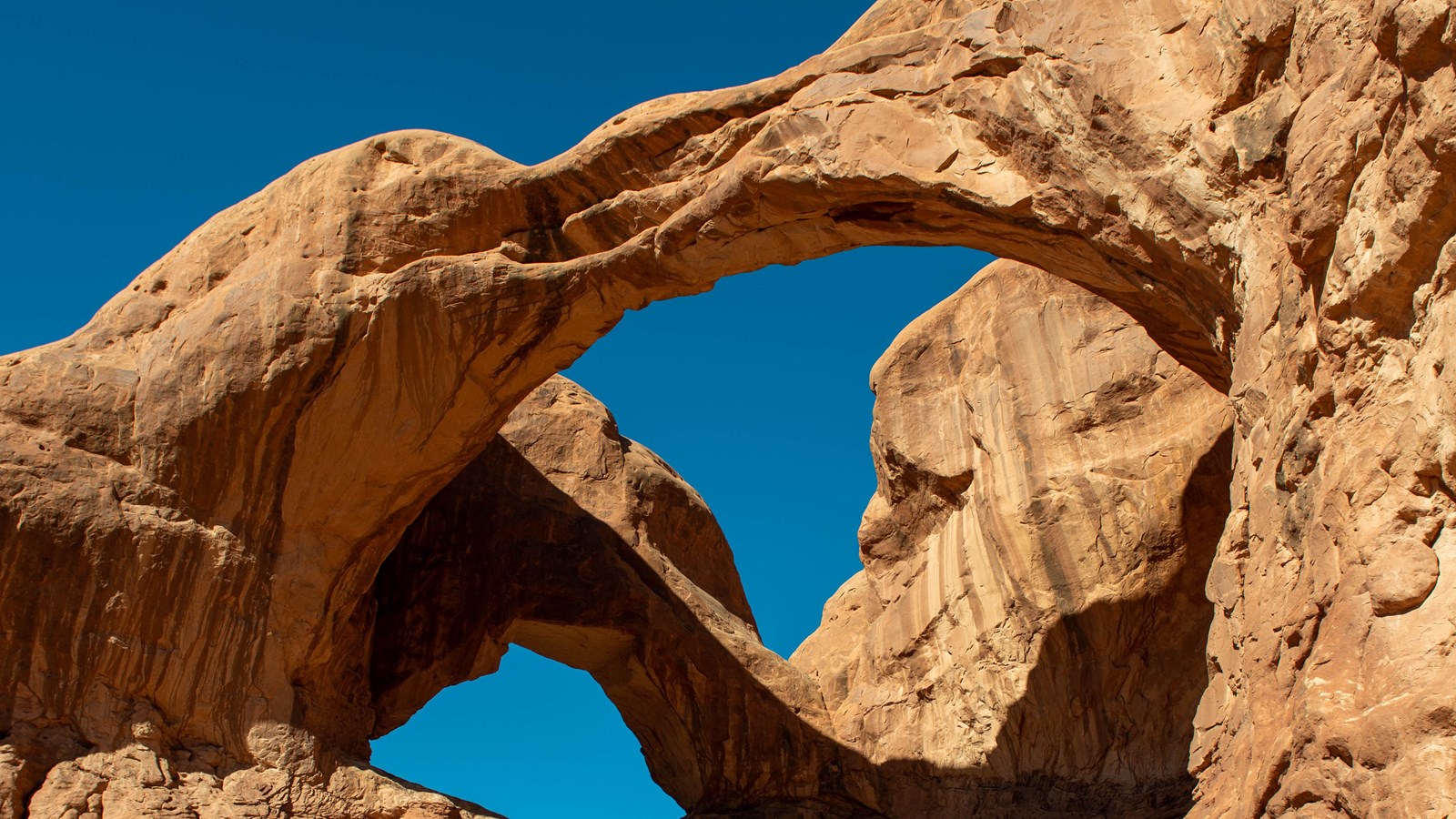 Location:
Arches National Park
Significance:
Geologic Feature, trail
Bicycle - Rack, Parking - Auto, Parking - Bus/RV, Toilet - Vault/Composting, Trailhead, Wheelchair Accessible
Visible from the parking loop at The Windows, Double Arch is an impressive feature—the tallest (112 ft/34 m) and second-longest (144 ft/44 m) arch in the park. A gently sloping path leads to its base.
Roundtrip Distance: 0.6 mi (1 km) 

Time: 15-30 min 

Elevation Change: 30 ft (10 m) 
Difficulty: Easy 

Hike Description: This gently sloping trail leads to the base of two giant arch spans that are joined at one end. Hikers choosing to scramble up the rock beneath the arches should plan their route carefully, as climbing up is often easier than climbing back down. 

Trail tip: Across from this trailhead, a connector trail climbs stairs to the upper parking lot and the Windows trailhead. Consider parking in one place and walking between the two lots, if you want to see more arches.
Accessibility: This hard-packed trail with a gradual slope is considered barrier-free and may be accessible to wheelchairs with some assistance. 
Dogs are not allowed on this trail. Service animals are allowed in national parks. What is a service animal? 
Double Arch is in The Windows Section, which is considered by some to be the beating heart of Arches National Park. The area contains a large concentration of arches and is one of the most scenic locations in the park. North Window, Turret Arch, and Double Arch are just a few of the awe-inspiring expanses you'll find in just over two square miles. Other named features in this area include Garden of Eden, Elephant Butte, and Parade of Elephants.
Last updated: January 31, 2023