Place
Dorothea Dix Hospital of North Carolina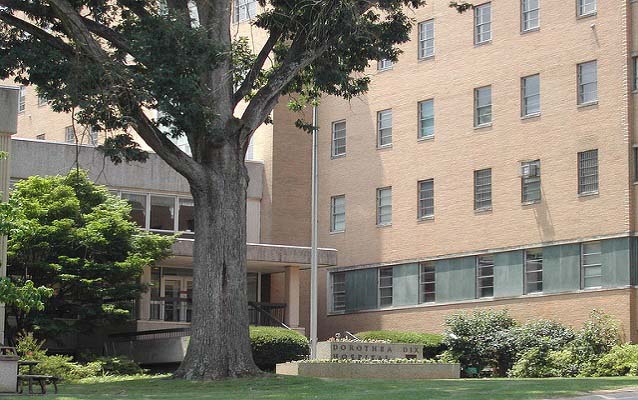 Location:
Southwest Jct. Dorothea Dr. & Lake Wheeler Rd., Raleigh, North Carolina
Significance:
Health/Medicine, Landscape Architecture, Architecture
Designation:
National Register of Historic Places
Dix Hill, now known as Dorothea Dix Hospital, opened as the North Carolina Hospital for the Mentally Ill in 1856. After the construction of Broughton Hospital ca. 1880 in Morganton, in western North Carolina, Dix Hill served eastern North Carolina, and following the construction of Cherry Hospital in Goldsboro in the 1890s, Dix served the central section of the state. It is located on a sprawling campus of approximately 400 acres in southwest Raleigh one and one-quarter miles southwest of the State Capitol. The original building, an imposing Tuscan Revival temple with three-story flanking wings, was designed by A.J. Davis and completed in 1856. Nationally-important architects Davis and A.G. Bauer worked on the campus in the 1800s, and noted North Carolina architect C.C. Hook shaped it in the 1920s. A. J. Davis' design for the original building, based on the Kirkbride theory of asylum design, a connecting system of buildings with a central core for offices, small wards with the sexes segregated, and a large expanse of landscaped lawn, was in the forefront of national developments of asylums for the insane. The cultivation of the "Grove" in front of the hospital throughout the period of significance indicates not only aesthetic sensitivity but also the belief that the tranquility of nature was an important component in the healing process. The overriding importance of Dix Hill is its campus design, of which the landscape is a vital and unifying element.
In 2000, it was decided that Dix Hill must shut down. In 2012, Dix Hill officially moved out its last patients and closed its doors permanently.
Last updated: July 28, 2017