Place
Dorgan Sublett Trail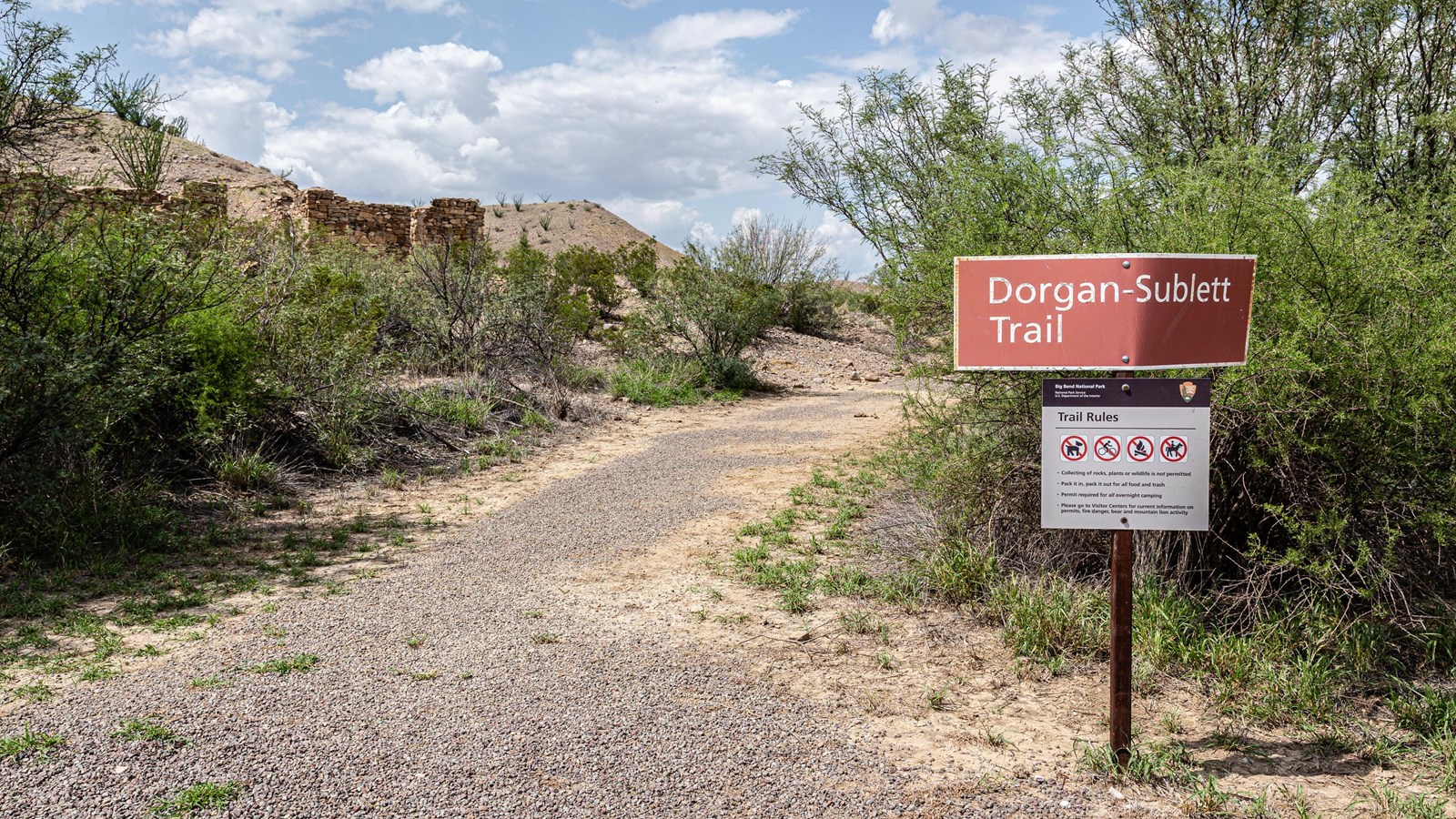 Location:
4.5 miles west of Castolon
Significance:
The Historic Rancho Estelle area consists of the former homes of farmer James Sublett and architect Alvert Dorgan.
Designation:
U.S. National Register of Historic Places
Benches/Seating, Historical/Interpretive Information/Exhibits, Parking - Auto, Trailhead
Trail Information
Roundtrip distance: 1 mile (1.6 km)
Elevation Change: 56 feet (17 m)
Average Hiking Time: 30 minutes

Dogs and other pets are not allowed on any trails in the park.

This trail leads to the remains of four structures that were part of the Grand Canyon Farms operation in the early 1900s. The first structure is a stone farmhouse with an exhibit detailing the significance of the farm and the families that lived here. The wide dirt trail continues east through grasses and desert scrub to a small grove of mesquites with a shaded bench, then proceeds to the second structure, La Casita.
From here, the trail ascends a moderately steep hill. At the top of the hill, the trail forks. What remains of the Sublett house is to the right (this area is especially fragile - stay on the trail). The left fork leads to the Dorgan house, where the fireplace and part of the walls are still standing. Take a look through the windows and enjoy a spectacular view of several Big Bend landmarks - the Chisos Mountains, Emory Peak, and Mule Ears to the north and east; Santa Elena Canyon to the southwest.
Accessibility
The trail is rock and sand with portions crossing sandy washes. This short path has one climb of 56 feet from the second adobe structure to the two structures located on top of the hill. 
A dirt pullout at the trailhead provides parking for two vehicles.
Hike Smart
Bring plenty of water!
Carry 1 liter of water per person per hour that you plan to hike. The importance of carrying enough water in this hot, dry climate cannot be overstated!

Eat
Your body needs food for energy and salts and electrolytes to replace what it's losing from perspiration. The dry climate at Big Bend means that sweat often evaporates almost instantly; your body is likely losing lots of moisture and salts without you even realizing it. Eat plenty of salty snacks to keep your body's salt-to-water ratio in balance.

Sun protection
Carry sunscreen and use it liberally. Hats are also strongly recommended. It may seem strange to wear long-sleeved shirts and pants in hot weather, but many hikers choose lightweight, breathable clothing which covers their arms and legs to protect themselves from the sun.

Don't leave people behind
If you're hiking in a group, make sure the person in the back always has someone to help.

Be aware of wildlife
Keep an eye out for snakes, and remember to maintain a safe distance between yourself and all wildlife. Animals in the park are wild and should never be approached, harassed, or fed.

Don't stack rocks
Cairns are stacks of rocks which are sometimes used to mark trails in areas where they are hard to follow. Randomly stacked rocks can lure hikers off the correct trail.
Last updated: March 22, 2022