Place
Downtown Historic District (Chinatown) Washington, D.C.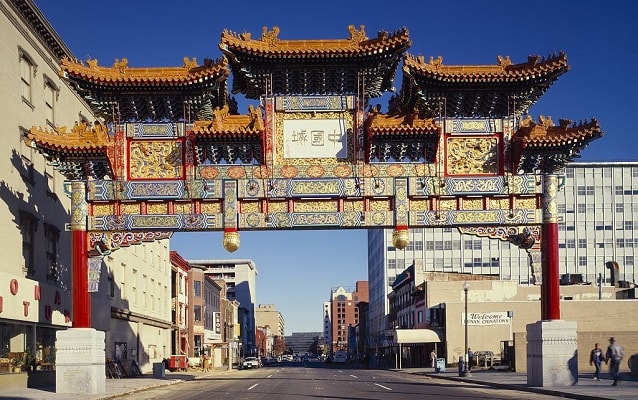 Location:
Roughly bounded by Massachusetts Avenue NW, 5th Street NW, G Street NW, and K Street, NW. )
Designation:
National Register of Historic Places
Chinatown is part of the the National Register of Historic Places-listed Downtown Historic District, which encompasses Washington, D.C.'s original downtown - one of the oldest mixed use areas in the city. In the 1930's, Chinatown moved from another part of the downtown district to where it is located today. The neighborhood is a mix of commercial, residential, religious, and governmental buildings. Vibrant and interesting to visit, it teems with people, some of Chinese descent and others with a rich variety of Asian and other cultural roots.
 
The city's primary public market (Center Market) was built in 1802 on Pennsylvania Avenue between 7th and 9th Streets, NW, a point midway between the White House and the U.S. Capitol, now the site of the National Archives. Seventh Street was the main route to the downtown market from farms north of the city. Seventh Street and Pennsylvania Avenue became the principal commercial streets in D.C. with residences mingling with businesses and government and private office buildings.
 
D.C.'s first Chinatown was established in the 1880s along the south side of Pennsylvania Avenue between 4 1/2 Street (John Marshall Way) and 7th Street, NW. Chinatown was comprised mostly of men who had immigrated to the western United States and had then migrated east. Many of these men had left wives to come to America, hoping to make their fortunes and return to China. As Chinatown began to grow, mutual aid societies and native place and family associations were formed which became an important lifeline for the residents of Chinatown.

In the mid-1880s, there were approximately 100 residents in Chinatown and the first Chinese grocery store opened in 1892. While Chinese restaurants and laundries were scattered all over the city, Chinatown was the only area that had Chinese stores. As was common in Chinese immigrant communities in the U.S., the Chinese in D.C. organized tongs (voluntary associations) formed around shared interests such as home districts in China, family names, and native dialects. The first tong was formed in 1894 and other tongs soon began to appear. The various tongs were in constant competition for influence within Chinatown, providing support and protection to both residents and newly arriving Chinese immigrants. By 1898, Chinatown had expanded to include parts of 3rd Street NW and by 1903, the neighborhood was bustling with drugstores, restaurants, barbershops, tailor shops, laundries, residences, and community organizations.

In the late 1920s, D.C began plans to redevelop the area between 4th and 6th Streets, tearing down Center Market, displacing Chinatown, and building government and private office buildings. At that time, there were two active tongs in Chinatown: On Leong Tong, formed in 1912, with 200 members, and Hip Sing Tong, formed in 1925, with 50 members. On Leong Tong appointed a committee to look for new buildings for their members. In October 1931, they announced that they had acquired the necessary land on H Street, NW between 6th and 7th Streets (the northern end of the Downtown Historic District), had bought a double building, and had leased additional space to accommodate the eleven businesses that were members of their tong. The Hip Sing Tong, which at one point threatened to move away from their rival tong, eventually moved with them to H Street. Once they moved to the new Chinatown, both groups dropped tong from their names and became prominent merchant associations. This new Chinatown soon spread from 2nd Street to 8th Street, NW along H Street and became a bustling neighborhood with stores, restaurants, churches, temples, and residences.
 
As an anchor for the new Chinatown, the On Leong Tong immediately renovated the buildings it purchased at 618 and 620 H Street, NW, remodeling the two buildings into one, adding a tile roof over the first floor and a tile roof above the third floor. Similar remodels were made to existing buildings throughout Chinatown, giving the area a distinctive appearance and character. The area that formed the new Chinatown had been occupied by earlier German and Jewish immigrants and some of the city's oldest pre-Civil War buildings, with flat roofs and sloped roofs, can still be seen beneath the building's Chinese facades.

By 1936, 800 people - including 32 families - were living in Chinatown. They established Chinese schools, clubs, and entertainment facilities. Chinatown also had a number of community organizations, including family associations to provide social services and support, district associations to settle disputes, and civic or merchant associations.
 
Attempts to preserve Chinese culture centered on the Chinese School, which was established in 1931 to teach Chinese language and customs. In addition, several religious institutions also worked to preserve the Chinese culture of Chinatown. Foremost among these was the Chinese Community Church, which was founded in 1935 and is located at 500 I Street, NW. The Chinese Community Church building was designed by Thomas Ustick Walter, Architect of the Capitol from 1851-1865, who also designed the U.S. Capitol dome. The Church was built in 1852 and was a Presbyterian Church before serving Jewish and later Baptist congregations. Calvary Baptist Church, located at 755 8th Street NW, had a Chinese Sunday School as early as 1889 as part of a missionary effort aimed at teaching English and the Bible to Chinese immigrants. St. Mary's Catholic Church, located at 727 5th Street NW, also reflected the changing neighborhood. In the early 1950s, the church hired a Chinese priest and a Chinese Mass is still celebrated there every Sunday.
 
Chinatown remained a strong community into the 1960's, but the riots that followed Martin Luther King's assassination in 1968, and the ensuing decline of D.C's downtown area led many of the Chinese residents of Chinatown to move to suburbs in Maryland and Virginia.
 
In the early 1980s, the D.C. government built a new convention center between 9th and 11th streets, displacing many Chinese residents living in the area. To provide housing for the displaced residents, Chinese community groups worked together to build the Wah Luck House apartment building at the corner of 6th and H Streets NW. Designed by noted Chinese American architect Alfred Liu, the apartment building uses modern Chinese design motifs and also features a Chinese garden with pathways and seating.
 
In 1986, the District of Columbia dedicated the Friendship Archway, a traditional Chinese structure designed by architect Alfred H. Liu in the style of Ming and Qing Dynasties gates. The archway, located on H between 7th and 6th Streets, has seven cantilevered roofs put together without nails in the ancient Chinese tradition of Dougong. This technique uses interlocking wooden brackets and is one of the most important elements in traditional Chinese architecture. The gate is 60 feet high with over 7000 glazed tiles and 280 painted dragons. Built to celebrate the friendship between Washington, D.C. and its sister city of Beijing, China, it is the largest single-span archway of its type in the world.
 
Today, the Chinatown Community Cultural Center, at 616 H Street, works to preserve and promote Chinatown's identity as a cultural destination and offers walking tours and other programs that celebrate Chinese culture, history, language, and heritage. Chinatown's signs, street lights, banners, and building ornamentations reflect the neighborhood's Chinese heritage and several restaurants located along and around H Street NW, between 7th and 6th Streets are owned by Asian American families. Chinatown is a thriving and vibrant area with residences, restaurants, theaters, office buildings and stores that continue to draw people to the historic downtown heart of Washington D.C.

Chinatown is located in Washington, D.C's Downtown Historic District and is roughly bounded by Massachusetts Avenue NW, 5th Street NW, G Street NW, and K Street, NW (Mount Vernon Square). For information about its walking tours of Chinatown and other programs visit the Chinatown Community Cultural Center website. For more information about Chinatown visit the Washington D.C. tourism or the Cultural Tourism DC websites.

A project through the Underrepresented Community Grant Program, which works to diversify nominations submitted to the National Register of Historic Places, funded an effort to recognize the significance of this district related to Asian American history in D.C. 
Last updated: November 2, 2020