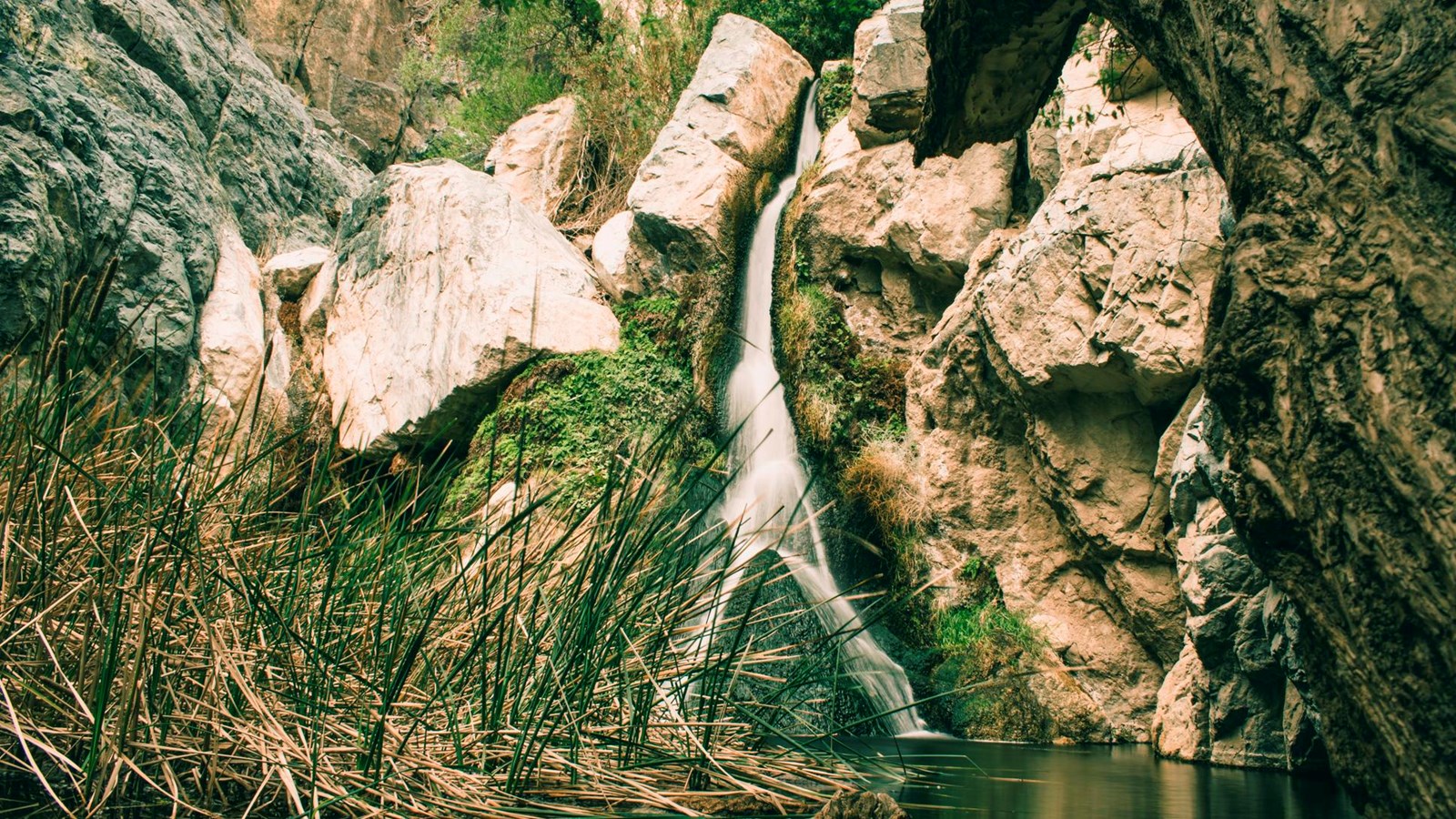 Location:
Death Valley National Park
Significance:
Hiking Route
Parking - Auto, Scenic View/Photo Spot, Trailhead
Flowing water cascades into a shallow pool surrounded by lush green vegetation.
The above description is not one often associated with Death Valley, but the arid Mojave Desert makes an exception at Darwin Falls. Nestled in an unassuming canyon with no water flowing beyond the canyon mouth, few would guess that around several dry desert bends hides a world of water and life.

Darwin Falls was named for an Army physician, Erasmus Darwin French, who came to the west in 1846 during the Mexican American war and prospected for silver in the area. At around 18 feet (5.5 m) tall, Darwin Falls is one of only a handful of year-round waterfalls in Death Valley National Park. The spring-fed water creates a truly special environment, allowing for the growth of trees, cattails, aquatic vegetation, and even ferns. Amphibians such as tree frogs and toads complete part of their lifecycle in these waters, and wildlife including bighorn sheep depend on the water's flow for survival.

Humans have also used this water for hundreds of years, and hikers may notice a metal pipe carrying water from the stream below the falls. Please do not enter the pool, as it is the drinking source for nearby Panamint Springs Resort.

The trailhead for the falls is accessed via an unmarked gravel road 1.2 miles (2 km) west of Panamint Springs Resort and is not always passable by sedans; speak with a ranger about current road conditions before heading out.     
---
HIKING NOT ADVISED AFTER 10AM IN THE SUMMER

Round Trip Length: 2 miles (3.2 km)  
Round Trip Time: 1.5 - 2 hours
Difficulty: Moderate
Elevation Gain: 450 ft (137 m)
Trail Type: No official trail, unmarked out and back route
Location: Darwin Falls Road off CA-190 (2.5 mi/4km from turn off). Typically passable by sedans, but may be rocky and rutted and require a high clearance vehicle.
Parking: Small uneven dirt area, not recommended for RVs
Closest Restroom: No restrooms. The nearest facilities are located at the privately owned Panamint Springs Resort. Do not leave toilet paper near the trailhead or in the canyon.
Route: Unmarked route. Fairly flat but becomes rocky as it transitions from a gravely desert wash into a high walled canyon. Inside the canyon thick vegetation, stream crossings, and large slick rocks create obstacles requiring caution. Please protect this fragile resource by hiking only where a previous route exists. NO SWIMMING - this water is the drinking source for Panamint Springs Resort.

Note: pets are not allowed on any trail in Death Valley National Park, even if carried. Do not leave your animal in your vehicle. Speak with a ranger about one of the incredible dirt roads where you may walk your pet.
Last updated: March 24, 2022