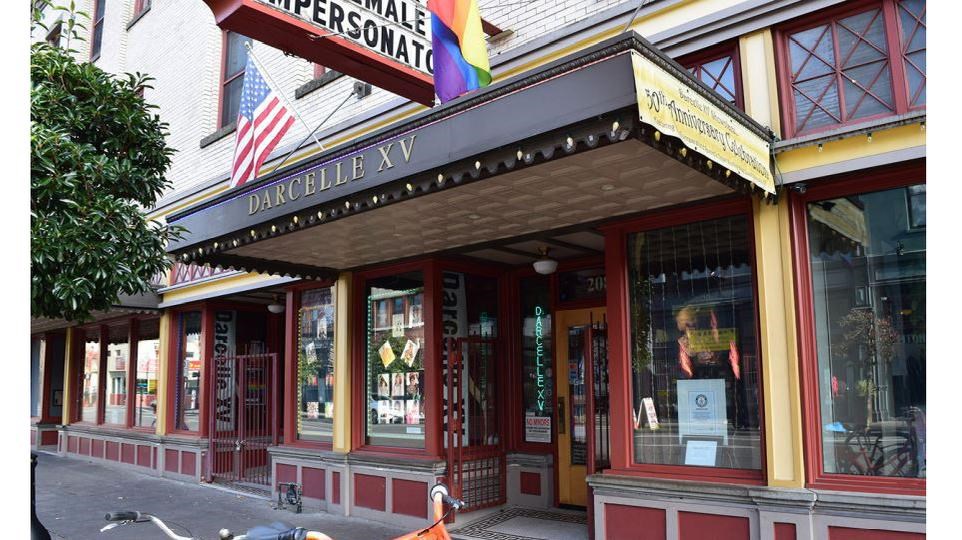 Location:
Portland, Oregon
Significance:
Social History, LGBTQ
Designation:
Listed in the National Register – Reference number 100005723
Darcelle XV in Portland, Oregon, was listed in the National Register of Historic Places in 2020. Darcelle XV Showplace is one of only two known drag clubs open prior to 1970 in the United States with an owner who performed (and is still performing!) as part of the company.  Darcelle XV is located in a large three-story brick building originally constructed in 1910. Under its original name, the Foster Hotel, the 20th Century Commercial style building is a contributing resource to the Skidmore/Old Town Historic District, a National Historic Landmark. The nomination of this building, individually, focuses on the commercial storefront spaces at the ground level, and the "back of house" spaces in the basement, where the venue Darcelle XV has been owned and operated by Walter Cole since 1967. As a nightclub and drag venue, the aesthetic of Darcelle XV Showplace reflects the improvised, low-budget, and self-reliant illusion of glamour that resulted from its development during the late 1960s and early 1970s when drag was celebrated mostly behind closed doors due to gay discrimination and the threat of harassment.  
Through fundraising, drag sponsorship and events, philanthropy, and nightly entertainment, the nightclub has a long history of standing up for LGBTQ rights. The club is deeply associated with its owner, Walter Cole/Darcelle, who, at 89 years old, holds the Guinness World Record as the World's Oldest Performing Drag Queen. Darcelle XV Showplace falls under the National Park Service's LGBTQ nomination themes of "peopling places" by supporting and demonstrating different concepts of gender as a venue that consistently featured gay and trans performers, developing the American economy as a long-running business, creating social institutions and movements as a nightclub accessible to and beloved by a community, expressing cultural values as the home of Darcelle and Roxy's drag show and many other drag performance competitions.  
Last updated: June 22, 2021