Place
Dantes Ridge (Mt. Perry)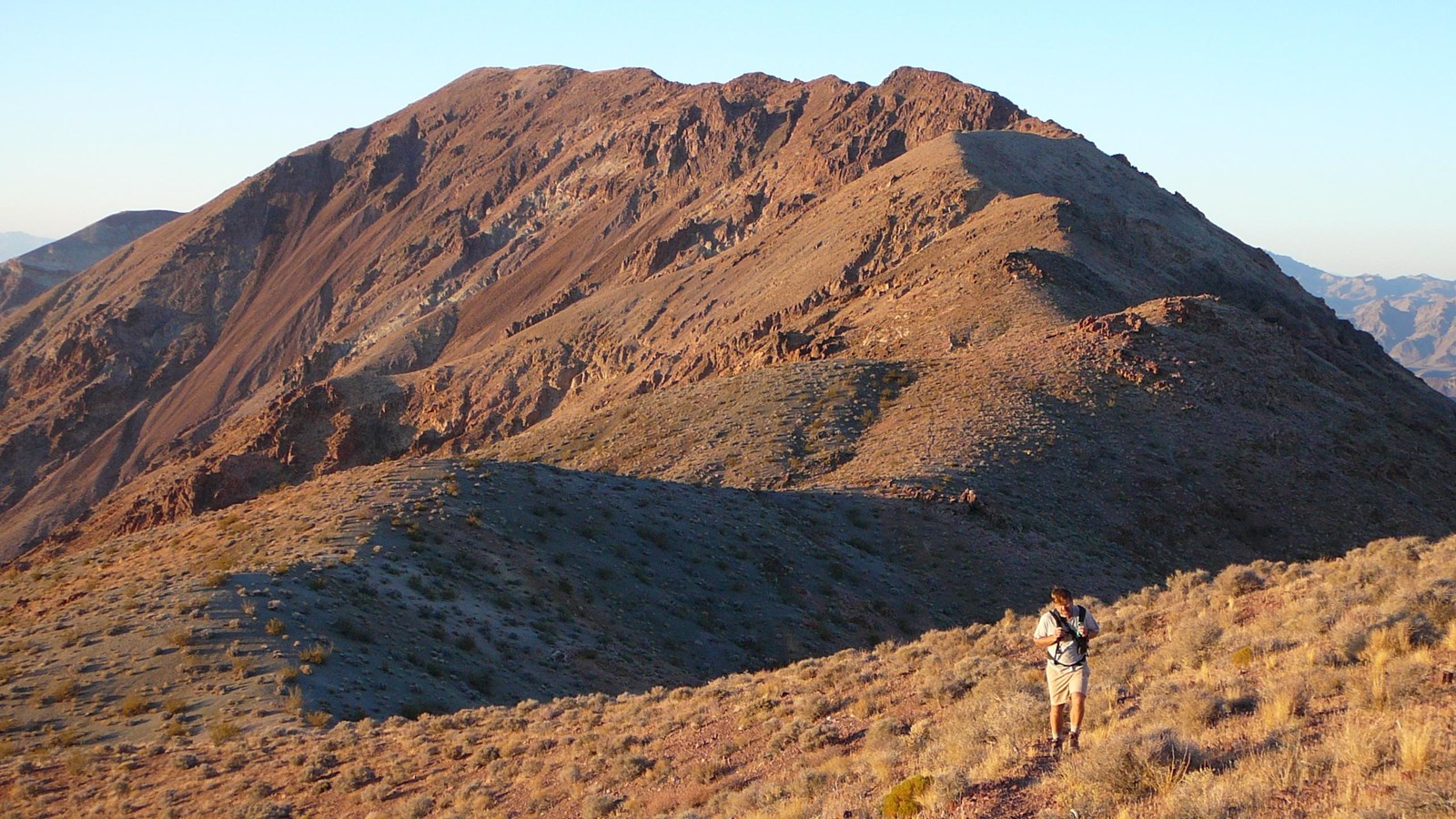 Location:
Death Valley National Park
Significance:
Hiking Route
Parking - Auto, Scenic View/Photo Spot, Trailhead
A hike along Dantes Ridge feels like a trek on top of the world.
Those seeking a strenuous hike with wide open views the entire way will surely enjoy Dantes Ridge. This unofficial trail begins from the north end of the Dantes View parking lot and continues approximately 4 miles (6.5 km) to Mt. Perry. The route follows a tree-less ridgeline in the Black Mountains and has many small climbs and descents. Due to these numerous ups and downs, the return trip is just as challenging as the hike out to Mt. Perry.

The route is generally easy to follow, but there are a few areas where it becomes lost in jumbled rocks. When hiking this route in winter, remember that it is significantly higher than the valley floor (Mt. Perry elevation: 5,738 ft/1,749 m), so bring extra layers. Although the route is cooler than the valley during the summer, summer hiking after 10 am is not recommended due to the complete lack of shade along the route.   
 
---
HIKING NOT ADVISED AFTER 10AM IN THE SUMMER

Round Trip Length: 9 miles (14 km)
Round Trip Time: 4-6 hours
Difficulty: Difficult
Elevation Gain: 2,090 ft (637 m)
Trail Type: No official trail, out and back route
Location: Unofficial trailhead at the north end of the Dantes View parking lot. 
Parking: Paved Dantes View lot. No vehicles over 25 ft (8 m) in length.
Closest Restroom: Vault toilet located in pull-out just before Dantes View parking lot. No restrooms along hiking route. Do not leave toilet paper in the backcountry.
Route: Out and back unofficial route from Dantes View heading north along the ridge to Mt. Perry. Unobstructed views the entire route. Frequent elevation gain and loss.

Note: pets are not allowed on any trail in Death Valley National Park, even if carried. Do not leave your animal in your vehicle. Speak with a ranger about one of the incredible dirt roads where you may walk your pet.
Last updated: March 29, 2022