Place
Cypress Swamp, Milepost 122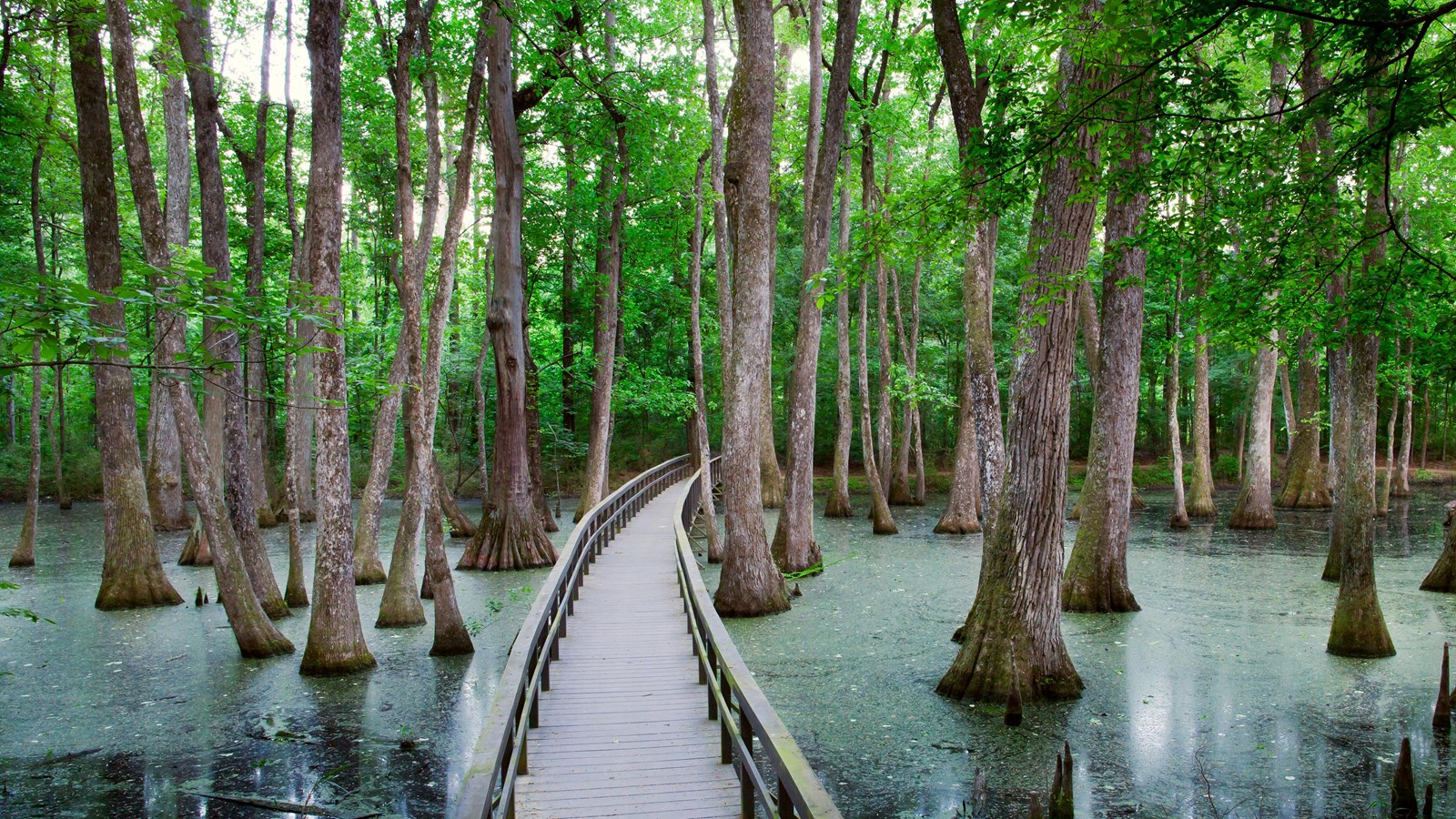 Location:
Natchez Trace Parkway, Milepost 122 near Canton, Mississippi
Significance:
Wildlife Viewing and Trailhead
Historical/Interpretive Information/Exhibits, Parking - Auto, Scenic View/Photo Spot, Trailhead
Many years ago, the Pearl River flowed here. The river changed course. A shallow area was created by the deposition of sediments as the river retreated. During periodic low water, seedlings of water-tolerant cypress and tupelo trees gained a foothold. The trees you see today are a result.
Water tupelo and bald cypress trees can live in deep water for long periods. After taking root in the summer when the swamp is nearly dry, the seedlings can stay alive in water deep enough to kill other plants.
The trail at this location leads through an abandoned river channel. As the channel fills with silt and vegetation, black willow, sycamore, red maple, and other trees will gradually replace the bald cypress and water tupelo. Also if you look closely you may see juvenile alligators sunning themselves on floating logs and other vegetation.
This location is also a trailhead for the
Yockanookany Section of the Natchez Trace National Scenic Trail
. This trailhead is located directly across the paved Parkway from the Cypress Swamp site. Hikers may hike south 14.1 miles to the West Florida Boundary, north 8.9 miles to the Yockanookany Trailhead, or any distance they chose on this out and back trail.
See 
Alerts & Conditions
 for updates.
Last updated: March 24, 2022