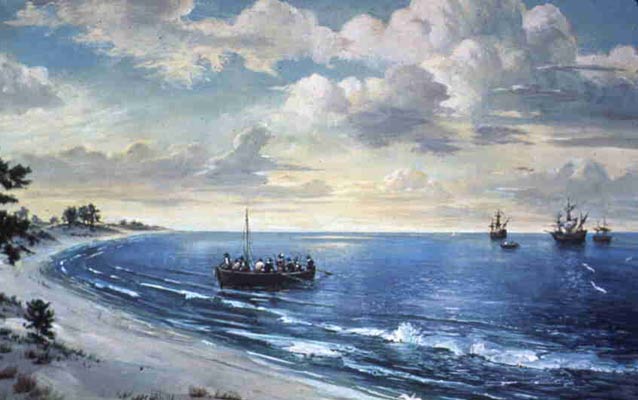 Quick Facts
Location:

Virginia

Significance:

the first permanent English settlement in North America in 1607, and Yorktown Battlefield; site of the final major battle of the American Revolutionary War in 1781

Designation:

National Historical Park

OPEN TO PUBLIC:

Yes
Colonial National Historical Park (NHP) administers two of the most historically significant sites in English North America. Historic Jamestowne, the first permanent English settlement in North America in 1607, jointly administered with Preservation Virginia, and Yorktown Battlefield, the final major battle of the American Revolutionary War in 1781.

These two sites represent the beginning and end of English colonial America. Situated on the Virginia Peninsula, these sites are connected by the 23-mile scenic Colonial Parkway. Colonial NHP also includes Green Spring, the 17th century plantation home of Virginia's colonial governor, Sir William Berkeley, and the Cape Henry Memorial, which marks the approximate site of the first landing of the Jamestown colonists on the Atlantic Coast in April of 1607.
Colonial NHP has a variety of natural resources including extensive wetlands, forest, fields, shorelines, and streams, as well as rare, threatened, and endangered plants and animals.

As Colonial National Historical park prepared for the 400th anniversary of Jamestown, the first permanent English settlement in North America, the focus of interpretation shifted and began emphasizing the coming together of three cultures during the 17th century – English/European, Virginia Indian, and African. The first Africans arrived at Jamestown in 1619. About 20 Africans aboard a Dutch ship were traded for food near Point Comfort, sent to Jamestown, and placed in servitude. Length of service and number of survivors is unknown but some did gain their freedom. Over the next century, enslaved Africans and their offspring became the primary labor force to support the cultivation of tobacco. Laws passed at Jamestown transformed an indentured form of servitude do one that was based upon race and lifetime enslavement.

A study by historical at the Colonial Williamsburg Foundation helped identify those who lived and worked at Jamestown and connect them to actual sites throughout Jamestown Island. It was used to develop exhibits and audio visual programs for the new visitor center, artwork, and waysides that were installed throughout Jamestown and adjacent areas. The research enhanced ranger-led tours and living history programs conducted by volunteers and staff, such as the life of Anthony Johnson, one of the first African Americans in Jamestown who gained freedom and owned property in Virginia.

The park holds events focusing on African American history, one if February during African American history Month and one in August to commemorate the arrival of the first Africans. These include speakers on the African American story and living history presentation portraying an African American soldier who served with the Union Army and Jamestown during the civil War.