Place
C&O Canal Ferry Hill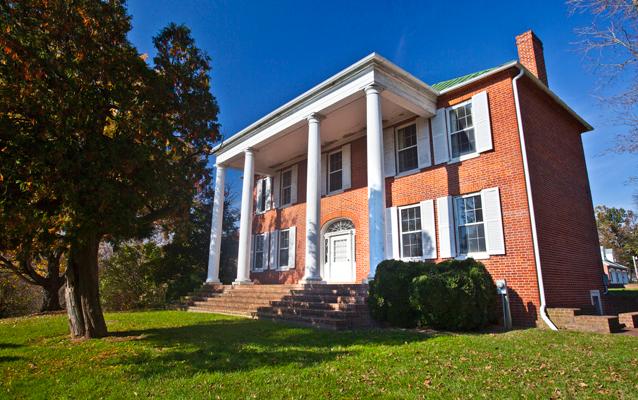 Significance:
Ferry Hill was occupied at various times by both armies
Historical/Interpretive Information/Exhibits, Parking - Auto, Toilet - Vault/Composting, Trailhead
Note: The grounds of Ferry Hill are open to the public, but there is no public access to any buildings.

". . . on a hill over against Shepherdstown, where from the gallery of its old house I could look for miles out into Old Virginia."
- Henry Kyd Douglas

Located in Sharpsburg, Maryland, with a view toward Shepherdstown, West Virginia, Ferry Hill Place has stood for two centuries above the Potomac River and the Chesapeake & Ohio Canal, participating in and watching history pass by. Ferry Hill is best known as the home of Henry Kyd Douglas, Confederate Officer and author of his Civil War personal account, "I Rode With Stonewall."

In the 18th and early 19th century German settlers migrated from Pennsylvania south into Virginia's Shenandoah Valley, where they then farmed the rich soil. These settlers crossed the Potomac using Packhorse Ford and later Blackford's Ferry below Ferry Hill. Come the 1830s the Chesapeake and Ohio Canal crossed this north/south route, tapping the river waters to provide a controlled water transportation route into western Maryland.

John Blackford who built and resided at Ferry Hill benefited from this crossroads of commerce. Unlike southern plantations, Ferry Hill profited from not just one cash crop, such as tobacco or cotton, but from a variety of crops, including grains, wheat, corn, an orchard, and even lumbering.

"I was with the company that set fire to [the bridge], and when . . . I saw the glowing windows in my home on the hill beyond the river . . . I realized that the war had begun."
- Henry Kyd Douglas, 1861

By 1860, Ferry Hill shifted through marriage into the Douglas family as Reverend Robert Douglas. As the Civil War began in 1861, Reverend Douglas' son Henry Kyd enlisted in the Confederate army where he served under Thomas "Stonewall" Jackson. Both young Douglas and Ferry Hill became fully engaged in the war. Douglas and his unit burned the bridge crossing the Potomac to limit Union forces from entering into Virginia, and Union forces burned the Ferry Hill barn.

Throughout the war, Boteler's Ford, also known as Packhorse Ford, a mile downstream from Ferry Hill, provided a frequently used crossing for soldiers from both North and South. Due to its strategic location on the border, Ferry Hill was occupied at various times by both armies. During the 1862 Antietam campaign Ferry Hill served as a headquarters, hospital and artillery base for Confederate forces. During the Battle of Antietam residents of Sharpsburg, fled west along the C&O Canal towpath and sought shelter at Killiansburg Cave, waiting for the fighting to pass. One resident noted that the cave "... was crowded with a variety of people of all classes." Following Antietam, the Battle of Shepherdstown played out along the river below the Ferry Hill. As troops moved on to fight elsewhere, Ferry Hill was scarred with it fences burned, livestock gone, and fields trampled.

"We encamped near Shepherdstown and I visited my home across the Potomac and saw the desolation of war. My beautiful home was a barren waste and a common, and the blackened walls of the burnt barn stood up against the sky as a monument of useless and barbarous destruction. I felt that it would be hard for me, going into Pennsylvania, to set aside all ideas of retaliation."
- Henry Kyd Douglas, "I Rode With Stonewall"

Then during the Gettysburg Campaign in 1863, and the Monocacy Campaign in 1864, Boteler's Ford provided a crossing for both Union and Confederate troops. And, Ferry Hill again suffered the impact of the war.

At the end of the Civil War, Ferry Hill lost its previous grandeur. Henry Kyd Douglas moved to Hagerstown to pursue his career as a lawyer as the site then went into the hands of Henry Kyd's sister, Nancy. In the 20th century, Ferry Hill operated as a pig farm, and by mid-century, as a restaurant. In 1979, the C&O Canal National Historical Park headquarters moved into Ferry Hill and operated here until 2002. For the past ten years, Ferry Hill shifted into a slower period as the house was opened for tours during summer weekends.
Last updated: May 7, 2021