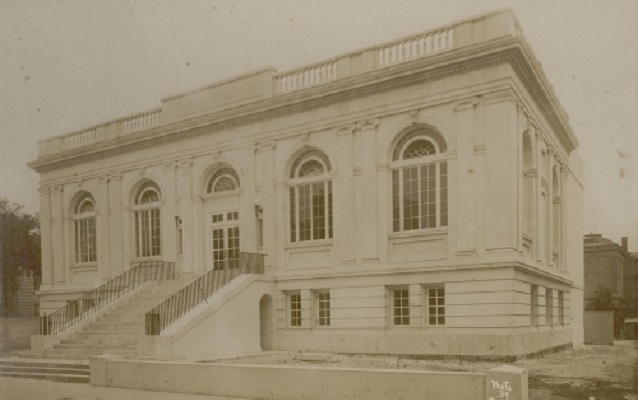 Quick Facts
Location:

164 King Street, Charleston, SC

OPEN TO PUBLIC:

Yes
The Charleston Library Society is thought to be the third library established in the United States. It was organized in 1748 by a group of young men who wished to keep up with the scientific and philosophical issues of the day, and hoped to "save their descendants from sinking into savagery." The initial group consisted of nine merchants, two lawyers, a schoolmaster, a physician, two planters and a perukemaker (wig-maker). The Library Society was active in many areas. To promote education, it began giving funds for the establishment of a college in the 1770s, hence the foundation of the College of Charleston. The Society purchased scientific instruments and appointed a committee to collect materials that promoted the study of the natural history of the area. These collections became the foundation of the Charleston Museum, the oldest museum in the United States.
In the early years, successive librarians kept the books in their custody, until 1792 when they were stored on the upper floor of the Statehouse. The original collection was lost when that building was destroyed by fire in 1778. In 1836, the Society bought the vacated building of the Bank of South Carolina. During the Civil War part of the Library's collection was taken to the South Carolina State Capitol for safe keeping. When these items were returned after the war, the Library also absorbed another institution, the Apprentice's Library. As a result of that merger, the Society today maintains a tradition of granting each adult member a free minor membership to any person under 21.
The current building was constructed in 1914 by Phildelphia architects McGoodwin and Hawley. It was designed in the Beaux Arts classical style using stuccoed brick and marble detailing. Built on a raised basement, the main floor is punctuated by arched Palladian windows separated by double pilasters with Ionic capitals. Today, the Library still serves researchers from all over the world, in person and by correspondence, providing access to the collections of rare books, periodicals, manuscripts, clippings, maps, directories, almanacs, and a newspaper collection that dates to 1732. The Library Society is one of more than 1400 historically significant buildings within the Charleston Old and Historic District.