Place
Charleston: First Baptist Church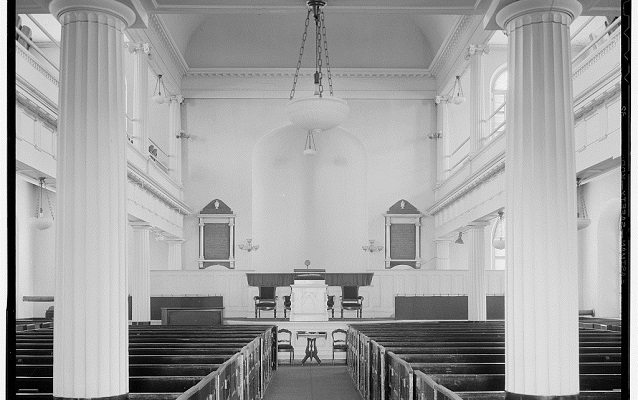 Location:
61 Church Street, Charleston, SC
First Baptist Church, often referred to as the "Mother Church of Southern Baptists," is the oldest Baptist Church in the South. The church was designed by Robert Mills and dedicated in 1822. Robert Mills considered the First Baptist Church to be "the best specimen of correct taste in architecture of all the modern buildings in this city." Mills described the building as "purely Greek in its style," although it is more accurately described as a Georgian Composition. The trim Doric portico topped with triglyphed entablature and pediment are decidedly Greek in style, however, they are juxtaposed Roman arches and Tuscan columns.
 
The Church was founded in 1682 and originally organized in Kittery, Maine by the Rev. William Screven. Due to persecution, the Church remained in Kittery for only one year. In 1683 the Baptists relocated to South Carolina. Upon arriving in South Carolina, the Baptists first settled in Somerton, on the Cooper River near Charleston. The first Church meetings were held in the King Street home of William Chapman. In 1699, the present lot was donated to the Church by William Elliot and a frame building was constructed. During the Revolutionary War, the Church was seized by the British troops and used as a storage facility for salt beef and other provisions. The British commander, Lord Cornwallis, "feared the prayers of the young Baptist minister more than the armies of Marion and Sumter." The "young Baptist minister" he spoke of was the Rev. Richard Furman, founder of Furman University in Greenville, South Carolina: the first Baptist college in the South. Two other pastors of the church, the Rev. Dr. Basil Manly and the Rev. Dr. James Petigru Boyce, founded the Southern Baptists Seminary, currently the largest in the world. Today, the First Baptist Church remains an active congregation and is one of more than 1400 historically significant buildings within the Charleston Old and Historic District.
Last updated: February 20, 2018