Place
Charleston County Courthouse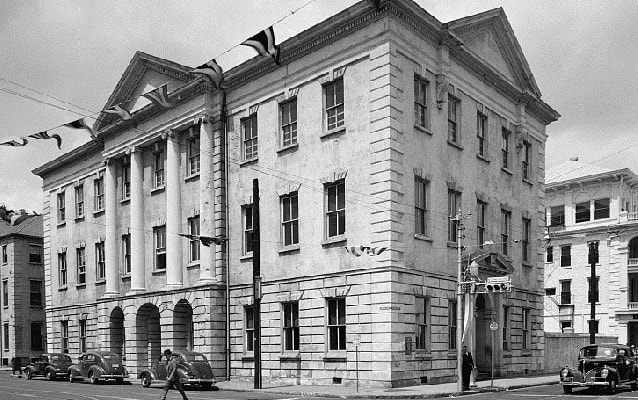 Location:
84 Broad Street, Charleston, SC
The Charleston County Courthouse is one of the most important buildings in the state. First built in 1753 as the provincial capitol for the colony of South Carolina, the building was reconstructed in 1792 and used for the Charleston district courts. The original Statehouse building was two stories high with an elaborate lobby and grand staircase. Provincial court met on the ground floor, the Commons House of Assembly and the Royal Governor's Council Chamber met on the second floor. The Statehouse was part of the original Civic Square planned for in the Grand Modell of Charles Town, now known as "Four Corners of the Law," at the central intersection of Broad and Meeting Streets. Architecturally and geographically the building signaled to Charleston's citizens and visitors the city's importance within the British colonies. From the second story balcony overlooking Meeting Street, great affairs of state were announced to the public, including the first reading of the Declaration of Independence in South Carolina.

The original building burned during the Constitutional Ratification Convention of 1788, leaving only the foundation, walls and doorways. Anxious to retain their position in the new state government, Charlestonians quickly began reconstruction of the building in a Neoclassical style. Judge William Drayton, an amateur architect, supervised the construction, while James Hoban, architect of the White House may have assisted in its design. By the time of its completion in 1792, Columbia was firmly established as the capital city, and the building became a center for legal activity, housing circuit, state and federal courts as well as the sheriff's offices. A third story was used by the Charleston Library Society and Charleston Museum, the oldest museum in the country.

Major additions and changes occurred throughout the late 19th and 20th centuries, resulting in insensitive alterations to the building. The courthouse was recently restored to its late 18th-century appearance, and still houses court and county government functions. It is one of more than 1400 historically significant buildings within the Charleston Old and Historic District.
Last updated: February 15, 2018