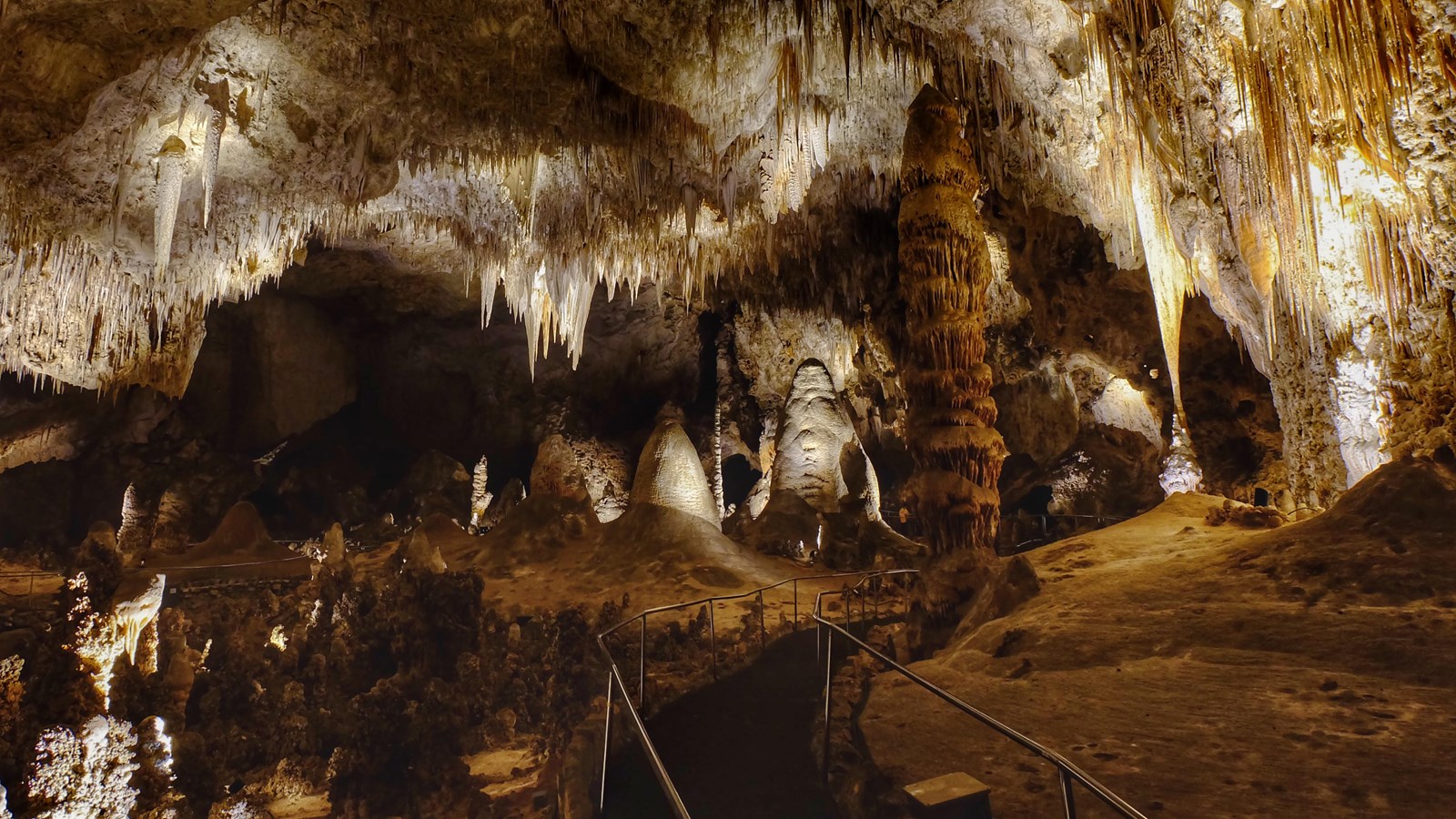 Benches/Seating, Elevator, Restroom, Restroom - Accessible, Water - Drinking/Potable
Explore Carlsbad Cavern at your own pace on the Big Room and Natural Entrance trails. Access is available by elevator or hiking.
Reservations Required to Enter Cavern
Reservations must be purchased online or by calling 877-444-6777.

The reservation is only for selecting the entry time.

Entrance tickets will need to be purchased at the visitor center.
Big Room Trail
The most popular route, the Big Room, is the largest single cave chamber by volume in North America. This 1.25 mile (2 km) trail is relatively flat, and will take about 1.5 hours (on average) to walk it. Actor and comedian Will Rogers called the cavern, "The Grand Canyon with a roof over it." You will be rewarded with spectacular views, cave formations of all shapes and sizes, and a rope ladder used by explorers in 1924.

If you are seeking a shorter experience, the Big Room has a shortcut which reduces the walking distance to about 0.6 miles (1 km). The hiking time is about 45 minutes.

Parts of the Big Room Trail are wheelchair accessible. You can ask for more information about accessibility at the visitor center. You may also download our Accessibility Brochure [0.5 MB PDF].
 
Natural Entrance Trail
The 1.25 mile (2 km) Natural Entrance Trail is extremely steep. Depending on if you decide to hike up or down, you gain or lose about 750 feet (229 m)—equivalent to walking up or down a 75-story building. The hike takes about one hour (on average) to complete. This trail is not recommended for visitors with heart or respiratory conditions.

You have the opportunity to follow in the footsteps of early explorers as you see formations like Devil's Spring, the Whale's Mouth, and Iceberg Rock.

The Natural Entrance is not an accessible trail.
Last updated: December 23, 2022