Place
Capital Traction Company Union Station - Exorcist Steps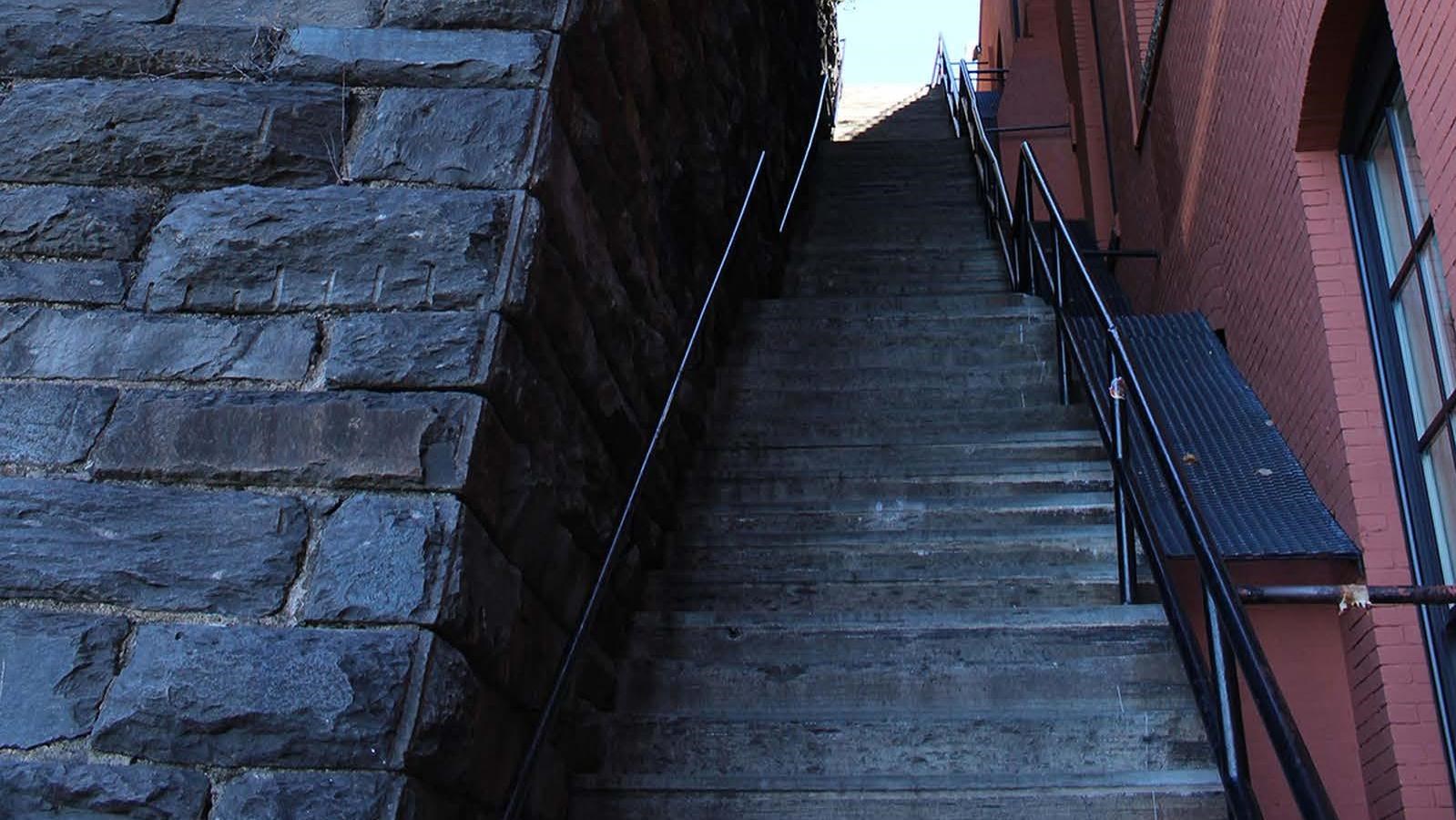 Location:
3600 M Street, NW, Washington, DC
Significance:
Architecture, Engineering, Transportation
Designation:
Listed in the National Register of Historic Places - reference number 100004248
Capital Traction Company Union Station, Washington, DC 
This property, located on M Street in the Georgetown Historic District in Washington, D.C. is composed of the Capital Traction Company Union Station, known today as the Georgetown Car Barn, the adjacent stone and concrete retaining wall, and the inset stone stairway, known commonly as the Exorcist steps or stairs. The four-story building, designed by prolific Washington architect Waddy Butler Wood was constructed in 1895-1897 and it overlooks the Potomac River. 
The property was developed  to serve as a consolidated streetcar station, storage garage and turn around, uniting services for four independently owned and operated streetcar lines. The Car Barn, the first station of its kind in the country, represents a significant and dramatic shift from independent streetcar operations to a new paradigm of cooperation among private owners of public transportation concerns. The retaining wall was integral for providing as much room as possible to store the rail cars that operated throughout the District, Maryland, and Virginia. 
As originally constructed, the building was a three-part, three-story brick and stone building with a central tower dominating the M Street facade. A fourth story was added in 1998.  The first story of the end piers featured wide, round-arched openings trimmed with granite, while that of the central block had smaller arched openings similarly dressed in granite. In 1910-1911, the building was significantly altered to accommodate the handling and storage of larger streetcars. Stylistically, these alterations diminished the Romanesque Revival style of the building and gave it a then-stylish Beaux Arts aesthetic.
The car barn, its retaining wall and stairs are together significant as a feat of engineering construction.  Faced with a site of steep grade change – a descent of 60 feet from Prospect Street to M Street, with a 20-degree surface slope—the site required an excavation of more than 80,000 cubic yards in anticipation of the construction of the Capital Traction Union Station on the site. In order to level the site for construction of the station, a prodigious amount of shoring was required and a substantial wall was constructed to the west of the car barn. A steep staircase, built to connect the lower M Street to the higher Prospect Street and provide pedestrian access between them, was constructed concurrently with the wall. 
The stairs, which figure into the horror film, The Exorcist, have gained notoriety in their own right and are commonly referred to as The Exorcist steps or stairs. In 1972, The Exorcist movie was filmed on location in Georgetown. The climax of the film – the exorcism – took place on the stone steps adjacent to the Capital Traction Union Station. The film was released in 1973 and was an immediate success. The stairway remains an important pedestrian link in Georgetown and local tourist attraction.
Last updated: October 31, 2020