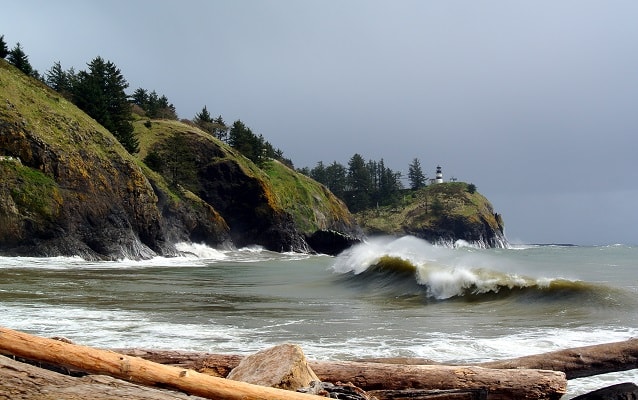 Quick Facts
Location:

244 Robert Gray Drive, Ilwaco WA

Significance:

Where many of the Corps saw the Pacific Ocean

Designation:

National Register of Historic Places

OPEN TO PUBLIC:

Yes

MANAGED BY:
Cape Disappointment is a High Potential Historic Site on the Lewis and Clark National Historic Trail.

On November 14, 1805, while the expedition sheltered at Dismal Nitch, Lewis "concluded to proceed on by land & find if possible the white people the Indians Say is below and examine if a Bay is Situated near the mouth of this river as laid down by Vancouver in which we expect, if there is white traders to find them." On November 17, Lewis "returned haveing travesed Haleys Bay to Cape Disapointment and the Sea Coast to the North for Some distance." Gass remarked, "They had been round the bay, and seen where white people had been in the course of the summer: but they had all sailed away." The next day Clark and 11 others "who wished to See more of the main Ocian" made the trip to Cape Disappointment and the northern coastline, rejoining the main party at Station Camp on November 20.

The cape was a notable maritime landmark of the Pacific Northwest, with the first known documentation in 1775 by Spanish explorer Bruno Heceta, who named it "Bahia de La Asuncion." British trader John Meares named it "Cape Disappointment" in 1788, due to his mistaken belief that the mouth of the Columbia River was only a bay. The United States deemed Cape Disappointment strategically significant enough to base military fortifications there during the Civil War and World War II. Construction of a lighthouse was complet­ed in 1856. The decommissioned military fortification and lighthouse are now encompassed by the Camp Disappointment State Park, which includes a Lewis and Clark Interpretive Center.
Lewis and Clark NHT Visitor Centers and Museums
Visitor Centers and Museums along the Lewis and Clark National Historic Trail