Place
Canton Asylum for Insane Indians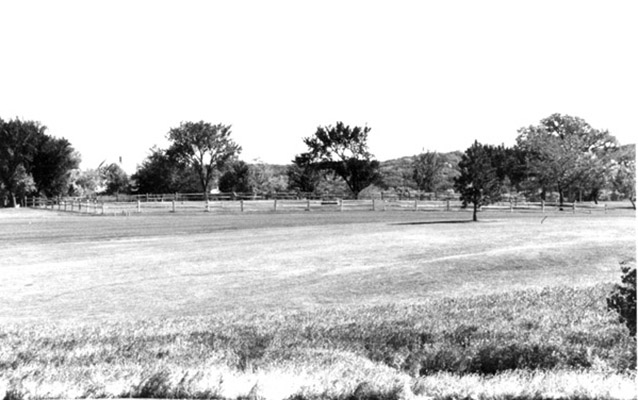 Location:
Hiawatha Golf Course/E Hwy 18, Canton,South Dakota
Significance:
Ethnic Heritage: Native American, Health/Medicine
Designation:
National Register of Historic Places
The Canton Asylum cemetery is located on the Hiawatha Municipal Golf course. The land has a gentle slope with trees nearby. The cemetery is enclosed by a split-rail fence, which was installed circa 1992. The fence was installed to deter golfers from playing through the cemetery. This action has been somewhat successful. The cemetery is approximately 120 feet by 80 feet. The cemetery is located between the golf course clubhouse and Canton-lnwood Hospital.
The first death occurred at the asylum on May 20, 1903. The superintendent notified the agent of the reservation where the patient had originally lived. After receiving no request to send the body home, the superintendent made arrangement for an interment on the grounds. A section of land was reserved, and over the next thirty years, it received the remains of patients at the asylum. The Bureau of Indian Affairs informed Superintendent Gifford that stone markers were unwarranted, so the graves were unmarked. On a chart hanging in the office, the superintendent recorded the name and location of each deceased patient. However in 1970, a complete burial stone with a bronze plaque was placed in the cemetery. Listed on the plaque are the names of 120 patients who had died and were buried at Canton during the thirty-two years of the institution.
The Canton Asylum Cemetery is historically significant for its association with the Native Americans (Indians) and the Canton Asylum for Insane Indians. The cemetery was used between 1903 and 1934 for the patients at the Asylum. The Canton Asylum was the second federal institution for the insane, predated only by Saint Elizabeths in Washington, D. C., which had been established in 1855. 1 In the late 1940s, the asylum was razed. The cemetery is the only remaining site associated with the asylum. The Canton Asylum Cemetery relates to the South Dakota State context in the areas of Depression and Rebuilding 1893-1929, under Civic Improvements and New Government-Related Structures and Sioux Era 1750 to present, under Government-Constructed sites and structures.
Last updated: July 26, 2017