Place
Cache la Poudre National Heritage Area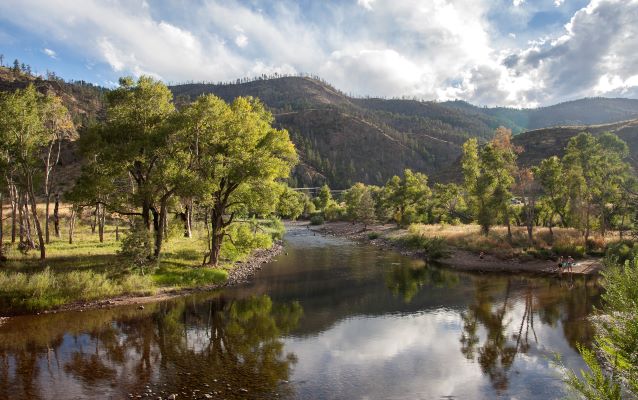 Significance:
The contributions of the Cache la Poudre River to the development of water law in the Western United States, the evolution of water delivery systems, and the shaping of the region's cultural heritage are all commemorated along the flood plain of this "working river" through programs and activities that combine the area's rich history, beautiful scenery and many opportunities for recreation.
Designation:
National Heritage Area
The
Cache la Poudre River National Heritage Area
(CALA), designated by Congress in 2009, is one of 55 National Heritage Areas throughout the United States and was the first to be established west of the Mississippi. The CALA extends for 45 miles and includes the lands within the 100-year flood plain of the Cache la Poudre River. It begins in Larimer County at the eastern edge of the Roosevelt National Forest and ends in Weld County, at the confluence of the South Platte River just east of Greeley.
The Cache la Poudre River is essential to the lives of the more than a half-million people in the northern Colorado Front Range and is the heart of the National Heritage Area. View irrigation ditches and canals built in the late 1800's by early settlers, many of which are still in use today. Bike the Poudre River Trail for miles of natural beauty and rich history. Sites of historical interest within the Heritage Area include the Fort Collins Water Works, the Great Western Sugar Beet Flume (a National Historic Site), and the Eaton House at the Boardwalk Park Museum in Windsor, all of which contribute to the history and story of water use in the West. 
Also nearby are the 1960's era Missile Silo Park, the site of a WWII POW Camp, and the Kaplan-Hoover Bison Bonebed, where the remains of over 200 bison (dating to 860 BC) were excavated beginning in 1998.   
From outdoor activities like hiking, biking, whitewater rafting, fishing and birdwatching, to museums and historical attractions, the Cache la Poudre River National Heritage Area is a great location to learn, explore and become inspired.
This Heritage Area includes the following sites:
Last updated: April 6, 2021