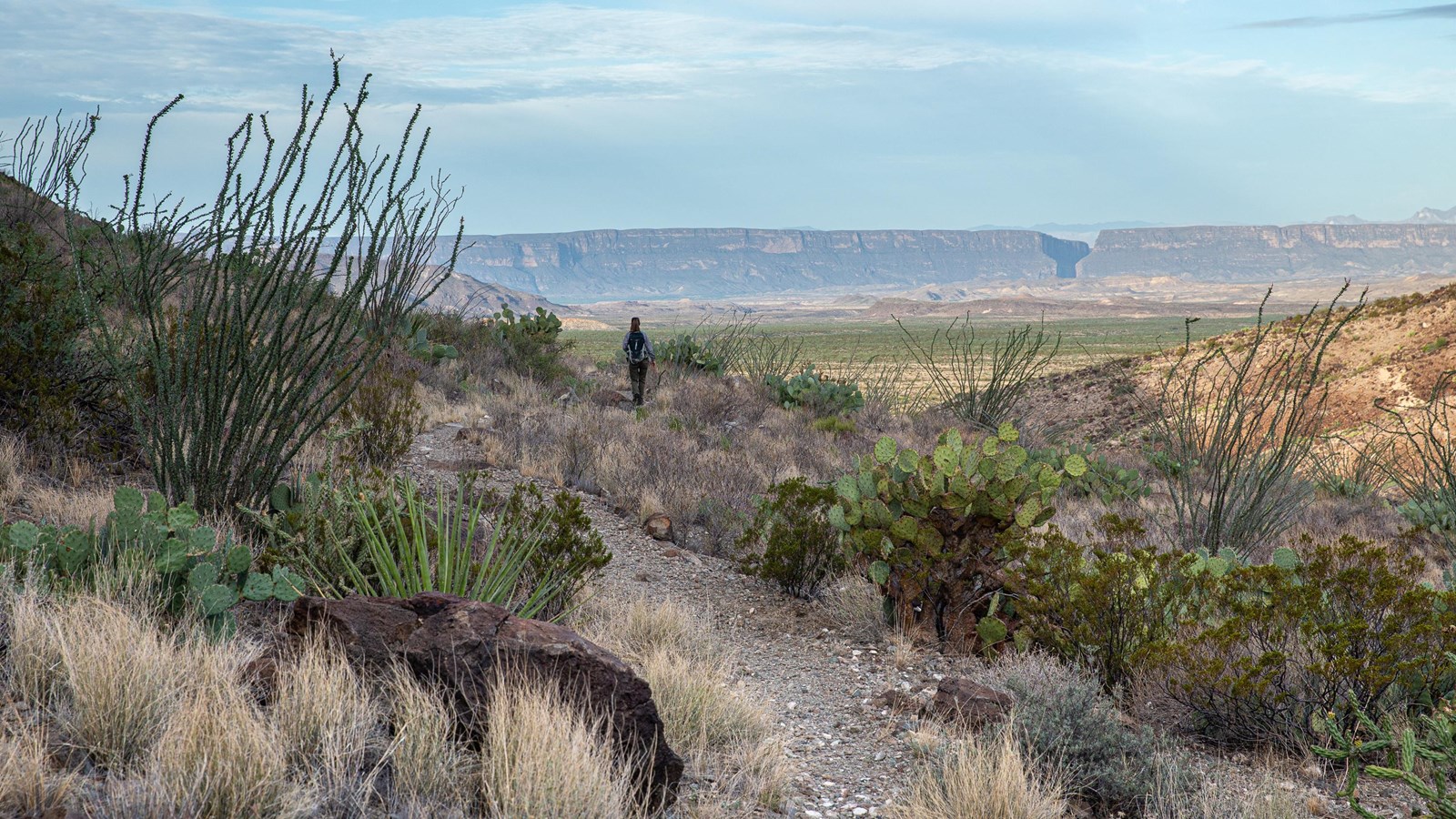 Location:
12 miles from the northern end of the Ross Maxwell Scenic Dr.
Significance:
Hiking, Geology
Trail Information
Roundtrip Distance: 2.4 mi.
Elevation Change: 300 ft.
Average time: 1.5 hours

Dogs and other pets are not allowed on any trails in the park.

The Burro Spring Trail is a 2.4-mile round-trip walk through white volcanic ash deposits and boulder fields of red rhyolite to a viewpoint overlooking Burro Spring. Tall cottonwoods—and even a palm tree—mark the location of the spring. At the overlook, you can turn around and retrace your steps to the trailhead, or follow a steep, rocky trail down to the spring itself. From the spring, follow the drainages around to the trailhead. This route is unmarked, so be sure to have a topographic map and some knowledge of wayfinding.
Accessibility
The trail to the spring overlook is a well-marked path. In places, the trail passes over patches of loose rocks and crosses small hills. The trail beyond the overlook is much more difficult and involves climbing down a steep, rocky slope and following sandy washes.

A paved pull-out at the trailhead offers parking for several vehicles.
Hike Smart
Bring plenty of water!
Carry 1 liter of water per person per hour that you plan to hike. The importance of carrying enough water in this hot, dry climate cannot be overstated!

Eat
Your body needs food for energy and salts and electrolytes to replace what it's losing from perspiration. The dry climate at Big Bend means that sweat often evaporates almost instantly; your body is likely losing lots of moisture and salts without you even realizing it. Eat plenty of salty snacks to keep your body's salt-to-water ratio in balance.

Sun protection
Carry sunscreen and use it liberally. Hats are also strongly recommended. It may seem strange to wear long-sleeved shirts and pants in hot weather, but many hikers choose lightweight, breathable clothing which covers their arms and legs to protect themselves from the sun. 

Don't leave people behind
If you're hiking in a group, make sure the person in the back always has someone to help.

Be aware of wildlife
Keep an eye out for snakes, and remember to maintain a safe distance between yourself and all wildlife. Animals in the park are wild and should never be approached, harassed or fed.

Don't stack rocks
Cairns are stacks of rocks which are sometimes used to mark trails in areas where they are hard to follow. Randomly stacked rocks can lure hikers off the correct trail.
Last updated: April 3, 2021