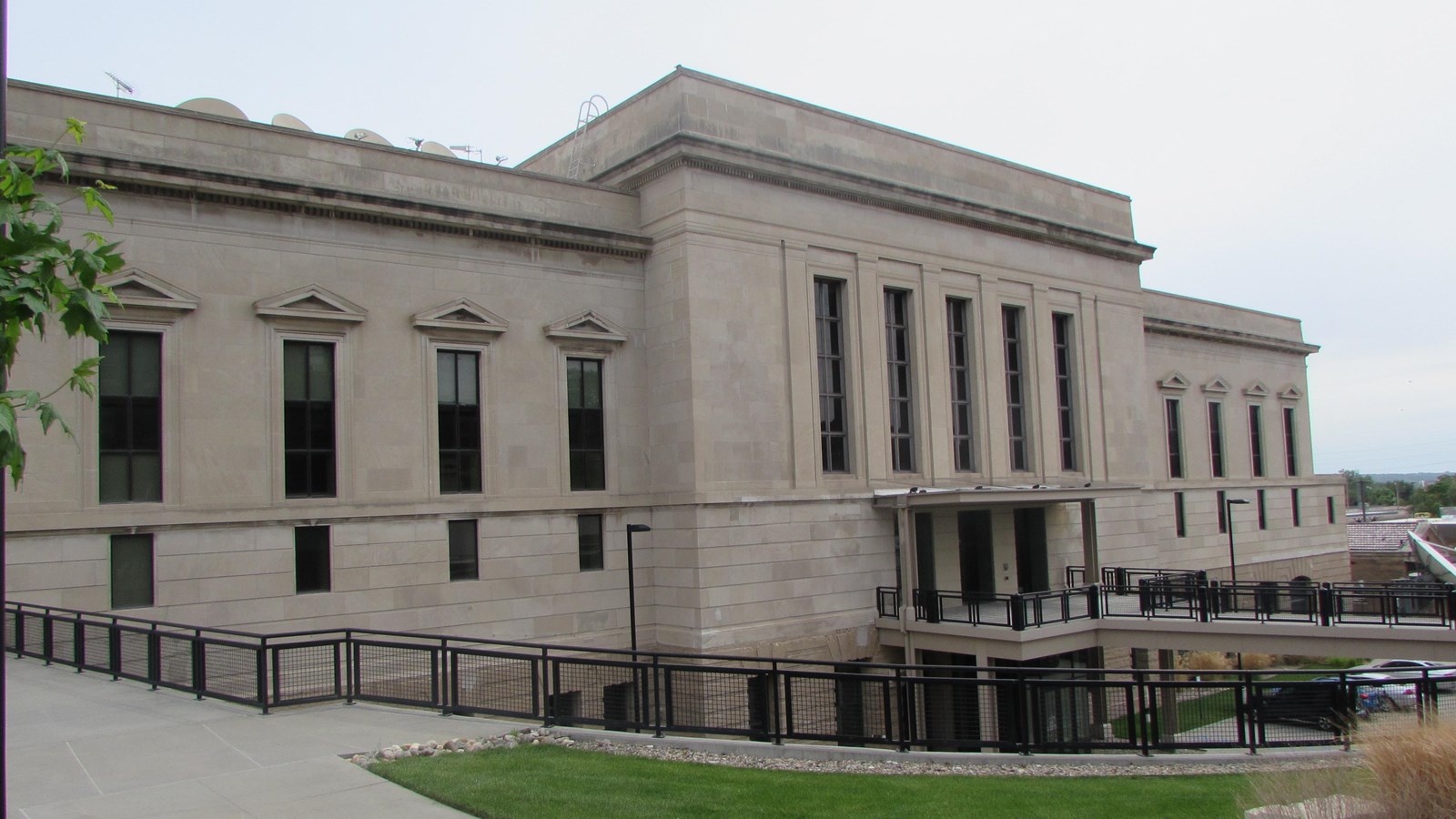 Location:
925 South 10th Street
Significance:
Commerce; Transportation; Architecture
Designation:
National Register of Historic Places
MANAGED BY:
KETV Channel 7
Burlington Station was completed in 1898 and served passengers and freight traveling on the Chicago, Burlington, and Quincy Railroad. It is listed in
National Register of Historic Places
for its significant distinctive Greek Revival design by prominent Nebraska architect Thomas R. Kimball, and its impact on the growth of Omaha.
The Burlington Railroad (Chicago, Burlington, and Quincy) entered Nebraska in 1870 and united the Midwest with tracks located west of the Missouri River. It brought an influx of passengers and railroad workers to the area who demanded personal services like hotels and restaurants contributing to the growth of Omaha's economy. It played an important part in transporting crops grown in Nebraska to the rest of the country, emphasizing the movement of goods over the manufacturing of goods in Omaha. The original 1870 station was constructed on the same site, but was demolished to construct a second, larger Burlington Station.
Burlington Station was designed by Thomas R. Kimball in the Greek Revival style. The design follows a classical temple form including a portico extending the width of the front façade, rows of freestanding columns, smooth wall surfaces, and windows and doors with decorative pediments. Richard Block of Chicago carved the pedimented frieze. The center of the frieze contains an ornamented clock surmounted by a globe with classically draped figures on each side. The figures represent manufacturing, agriculture, industry, commerce, steam, electricity, enterprise, science, art, and literature. In 1930 the station was remodeled, and the columns and portico were removed. The ceiling over the main waiting room was raised and a parking area was constructed.
Declining rail service and economic hardship caused the closure of the station in the 1970s. After sitting vacant for nearly forty years, it was purchased in 2013 by Omaha TV station KETV. Station officials were not only attracted to the chance to move into a larger facility, but also the opportunity to revitalize the historic building. KETV's multimillion-dollar investment in their new headquarters has restored the building's exterior to its historic appearance while installing modern technologies inside.
Last updated: September 8, 2022