Place
Burial Site of Franklin and Eleanor Roosevelt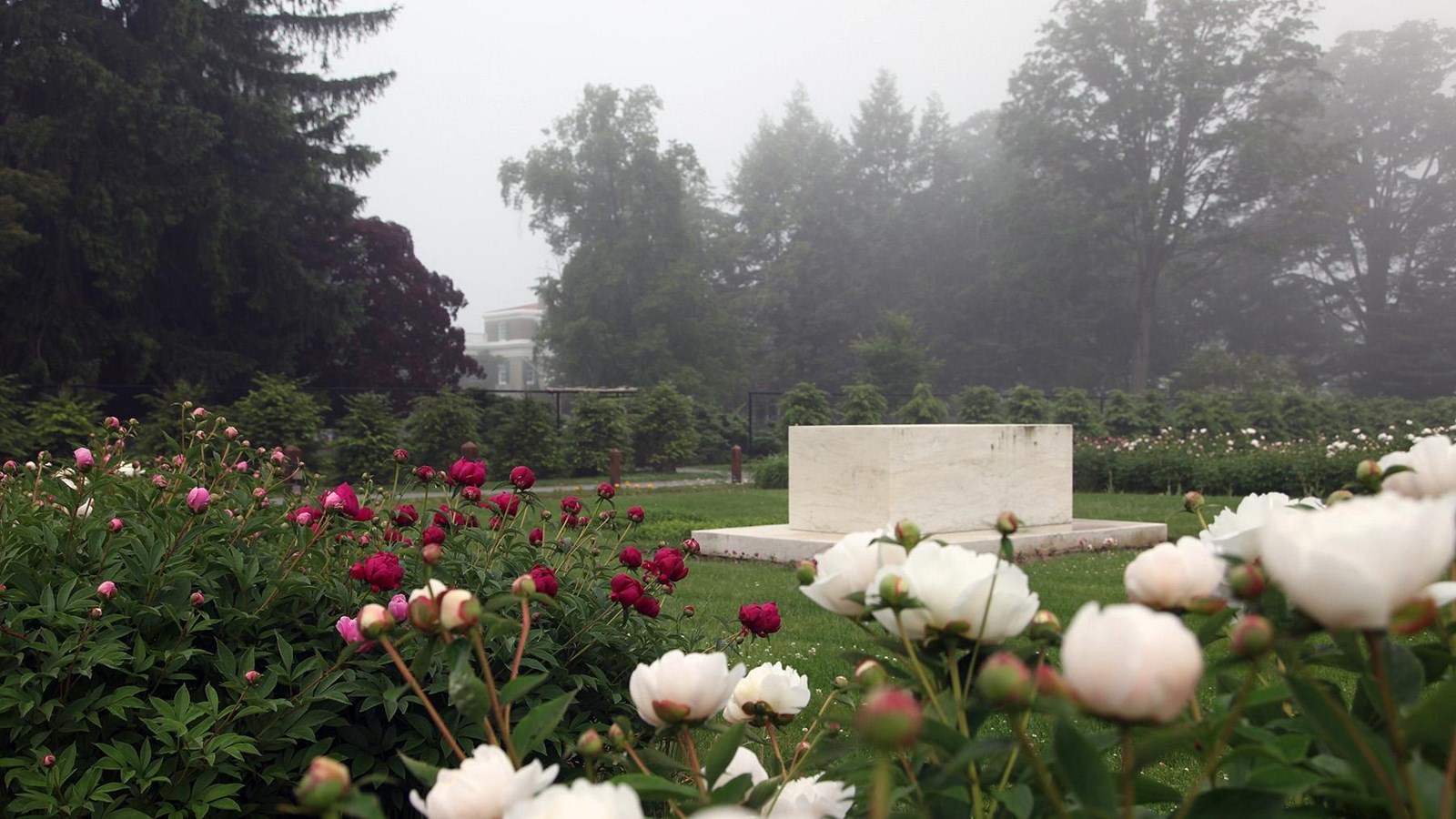 Significance:
Burial Site of Franklin and Eleanor Roosevelt
Designation:
National Historic Site
According to Franklin D. Roosevelt's own instructions, written on December 26, 1937, his body was to be buried "where the sun dial stands in the garden." His wishes reflect his intense connection to the place of his birth and formative years, the launching point of his rise to public prominence, his refuge from the serious demands of the world, and the place where he found the resources to face head on the challenges first of polio, then of executive office in a time of dire national crisis. FDR's burial at Springwood ensured his home's establishment as a national shrine. 
Franklin Delano Roosevelt died unexpectedly from a cerebral hemorrhage on April 12, 1945 at Warm Springs, Georgia. He made his last journey from Warm Springs on the morning of April 13, 1945. His bronze coffin, covered by the American flag, followed a procession from the Little White House between double ranks of 2,000 servicemen en route to the funeral train for Washington. The roll of muffled drums added a solemn mood to the slow-moving cortege, which paused momentarily where all of the patients of his infantile paralysis Foundation were assembled.
The train moved slowly throughout the night, passing stations filled with silent crowds gathered in reverence to watch as the President passed by. At Union Station, the procession continued with full military escort along Pennsylvania Avenue to the White House for a funeral service in the East Room.
That evening, the funeral train embarked on the final length of the journey. In the rose garden at Hyde Park, three hundred people waited in silence on the morning of April 15. The approaching sound of Chopin's "Funeral March," performed by the West Point band, signified the horse-drawn caisson was climbing the hillside through the woods toward the President's final resting place.
The monument marking FDR's grave was executed to the president's design by the Vermont Marble Company in Proctor, Vermont. For more than a century, Vermont marble was used in the construction of important public buildings and monuments, including many of the nation's finest structures—the Jefferson Memorial, the U.S. Supreme Court Building, and eventually the United Nations headquarters in New York City.
FDR specified that a plain white marble monument without carving or decoration be placed at his grave, situated east and west, measuring 8 feet long, 4 feet wide, and 3 feet high with a base extending 2 feet around the perimeter. The memorial stone was manufactured to President Roosevelt's design and installed in fall of 1945. According to the President's wishes, Mrs. Roosevelt was interred here also upon her death in 1962.
Last updated: March 9, 2023