Place
Brooks Falls Platform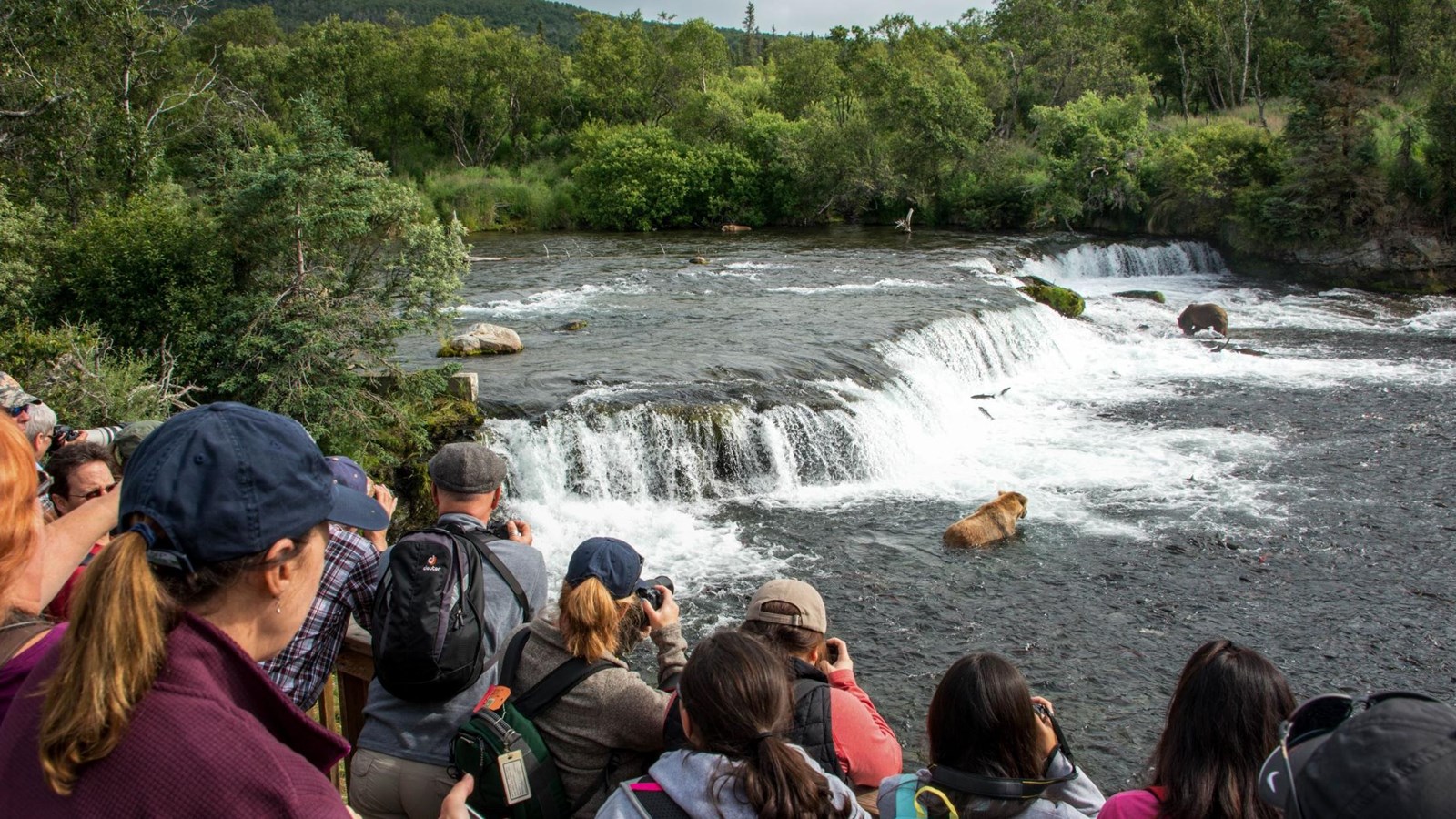 Location:
Katmai National Park & Preserve, Alaska
Brooks Falls is perhaps the most recognized area in all of Katmai. The Falls bisects the 1.5 mile long Brooks River which connects Brooks Lake and Naknek Lake. The roughly six foot high waterfall creates a temporary obstacle for salmon migrating upstream, resulting in large concentrations of salmon and therefore bears that come for the relatively easy fishing. It's a great place to watch bears fish, especially large, dominant males. During the peak season, it's possible to see more than 25 bears at once from the platform.     

The two-tiered Falls Platform is located next to Brooks Falls and, because of limited space, has a capacity of 40 people. When the platform is at maximum capacity, rangers maintain a waiting list and everyone on the platform is limited to one hour at a time on the Falls Platform. This system helps to provide equal access during peak days of visitation. In addition, the use of expanded tripods and rail-mounted fixtures is prohibited on the Brooks Falls Platform from June 15 to August 15. Tripods may be used in a monopod configuration if the legs are fully collapsed to the center position and the unit is not self-supporting.

More people visit Brooks Camp in July than any other month. If you come at this time, expect crowded conditions especially at the Falls Platform. Wait times to access the Falls Platform commonly exceed 1.5 hours in July, especially midday. The Falls Platform, adjacent Treehouse area (which is covered, has limited seating and some interpretive displays but offers no direct views of the river), and the Riffles Platform are closed from 10pm to 7am June 15–August 15.

From the Visitor Center, it is a 1.2 mile (1.9km) one way trip to the Brooks Falls and Riffles Platform. The nearest restroom is .6 miles away at the start of the Brooks Falls Trail.

***Covid-19 mitigation procedures are in place for the 2021 season which limits capacity to no more than 16 individuals or 4 household groups on the platform (whichever is less) and changes the time limit when there is a waitlist.
Last updated: March 18, 2021