Place
Boquillas Canyon Trail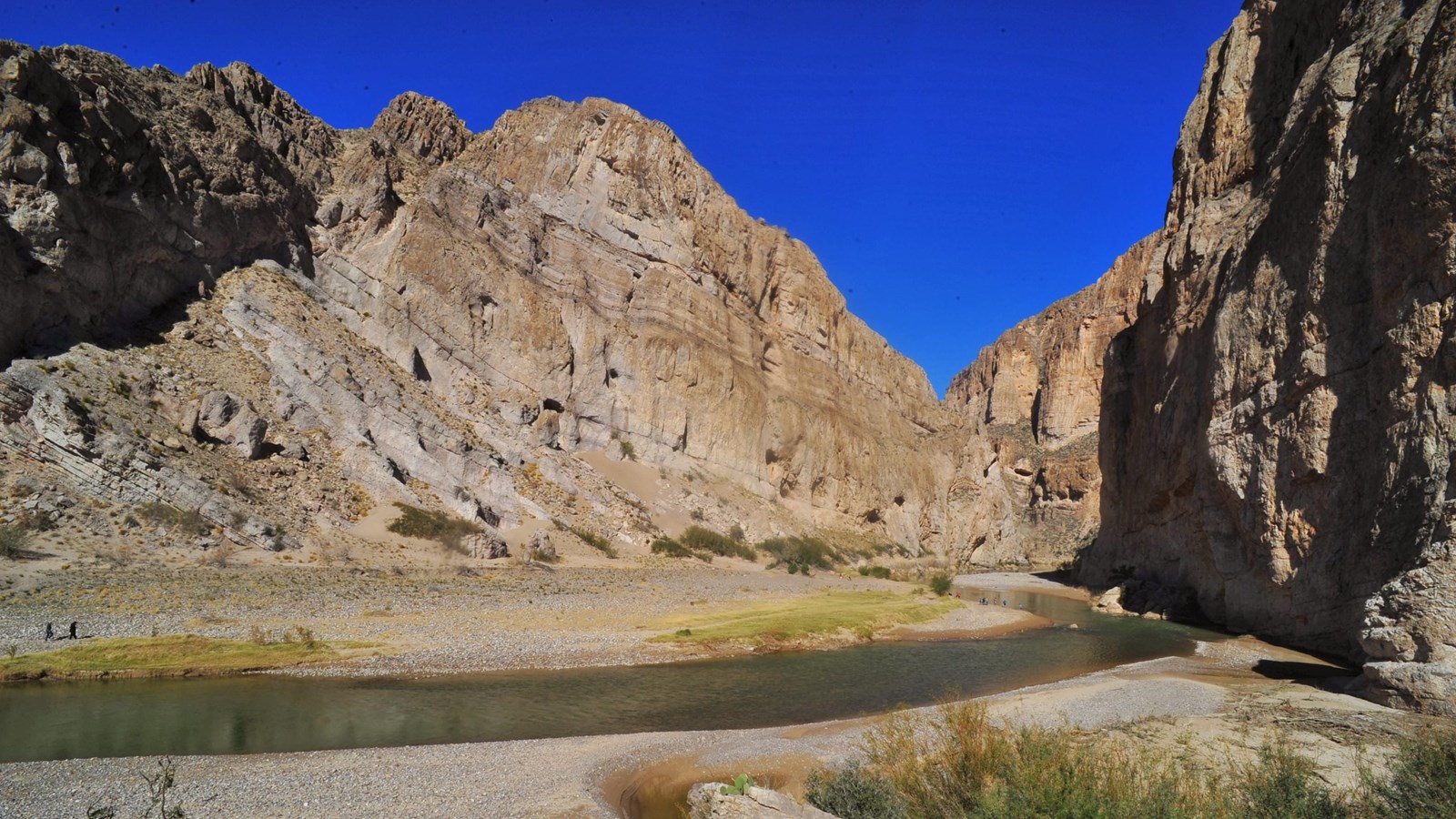 Location:
The end of the Boquillas Canyon road
Beach/Water Access, Parking - Auto, Restroom - Accessible, Scenic View/Photo Spot, Toilet - Vault/Composting, Trailhead, Trash/Litter Receptacles
Trail Information
Roundtrip Distance: 1.5 miles (2.4 km) 
Elevation change: 150 feet (45 m)
Average hiking time: 1 hour
Dogs and other pets are not allowed on any trails in the park.
The Boquillas Canyon Trail is a great way to enjoy one of the three major canyons located in Big Bend National Park. A walk along the Rio Grande leads to the entrance of a magnificent limestone gorge that splits the Sierra del Carmen Mountains. Along the way, look for ancient fossils that existed when this area was under an ocean, and pre-historic grinding holes that indigenous inhabitants used in food production.
This area is also a great place for scenic photography. The colors on the Sierra del Carmen at sunset are well worth the journey. During summer months, it is best to explore the canyon in the mornings, since daytime temperatures often exceed 110 degrees. Water and good footwear are essential items here, and for any hike in the Chihuahuan Desert.
Accessibility
From the parking lot, this trail climbs a small rise before descending to the Rio Grande. The trail surface is rock and dirt. Once down at river level, the trail transitions to sand and the remainder of the walk is a flat, pleasant stroll along the river. Eventually the high limestone walls and the river prevent further travel and it's time to turn around and head back to the trailhead.
The paved parking lot provides parking for about 15 vehicles.
Hike Smart
Bring plenty of water!
Carry 1 liter of water per person per hour that you plan to hike. The importance of carrying enough water in this hot, dry climate cannot be overstated!
Eat
Your body needs food for energy and salts and electrolytes to replace what it's losing from perspiration. The dry climate at Big Bend means that sweat often evaporates almost instantly; your body is likely losing lots of moisture and salts without you even realizing it. Eat plenty of salty snacks to keep your body's salt-to-water ratio in balance.
Sun protection
Carry sunscreen and use it liberally. Hats are also strongly recommended. It may seem strange to wear long-sleeved shirts and pants in hot weather, but many hikers choose lightweight, breathable clothing which covers their arms and legs to protect themselves from the sun. 
Don't leave people behind
If you're hiking in a group, make sure the person in the back always has someone to help.
Be aware of wildlife
Keep an eye out for snakes, and remember to maintain a safe distance between yourself and all wildlife. Animals in the park are wild and should never be approached, harassed, or fed.
Don't stack rocks
Cairns are stacks of rocks which are sometimes used to mark trails in areas where they are hard to follow. Randomly stacked rocks can lure hikers off the correct trail.
Last updated: November 7, 2021