Place
New Mexico: Blue Swallow Motel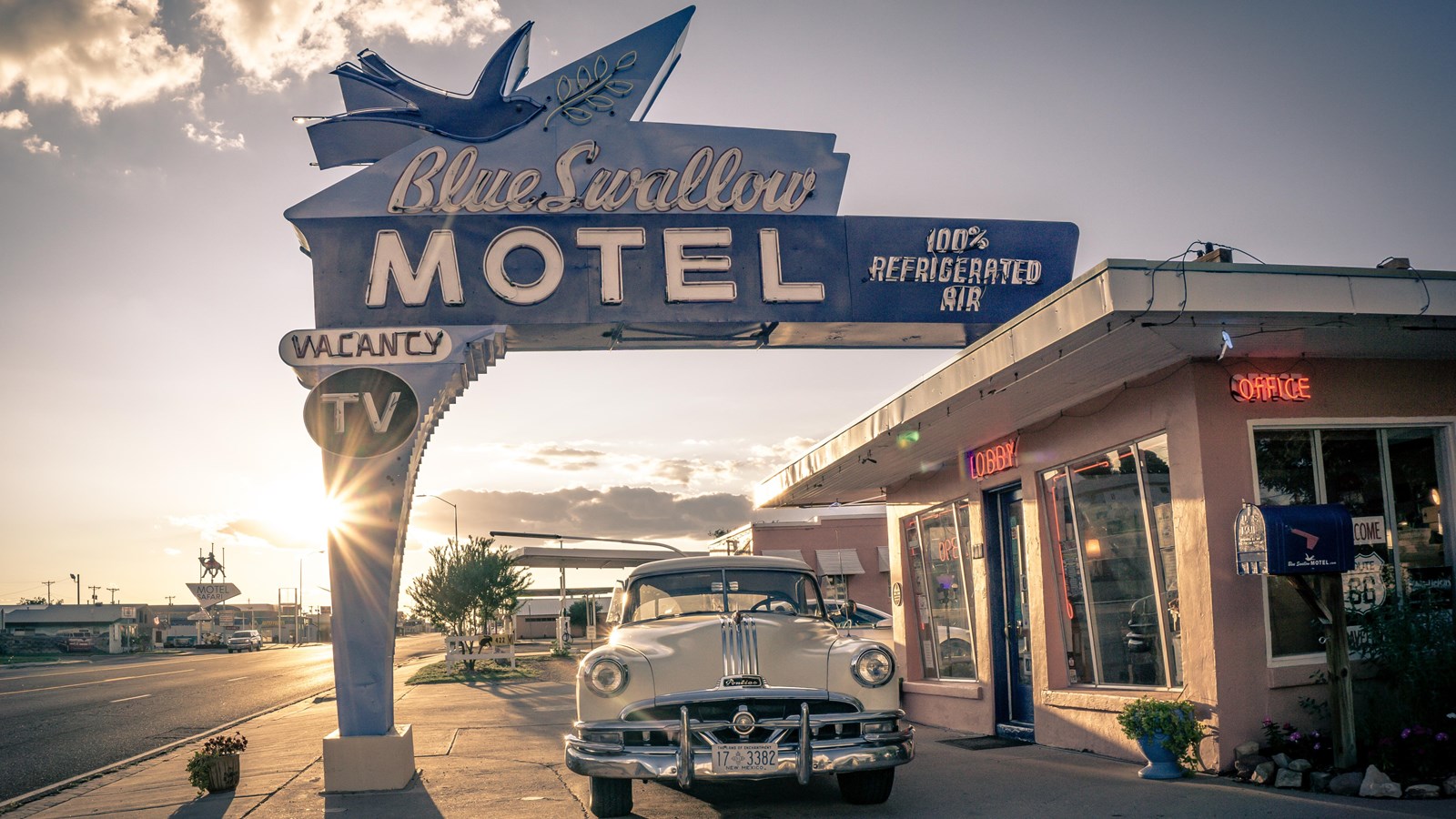 Location:
815 E Rte 66 Blvd Tucumcari, NM 88401
Significance:
Historic motel along Route 66
Designation:
National Register of Historic Places
Carpenter W.A. Huggins began construction on the Blue Swallow Motel prior to the outbreak of World War II, and Ted Jones, a prominent eastern New Mexico rancher, opened the motel in 1942. Facing Route 66, the Blue Swallow offers access to motorists from both the highway and a side street. The motel has an L-shaped plan and consists of 14 units with a discreet office and manager's residence. Garage units, some with wood overhead doors, are located between the sleeping units. With its pink stucco walls decorated with shell designs and a stepped parapet, the facade reflects a modest use of the Southwest Vernacular style of architecture.

When Mr. Jones and his wife died in the 1950s, Lillian Redman and her husband bought the motel and successfully operated it. From the start, the Redmans put their customers first. When guests didn't have enough money for a room, the Redmans accepted personal belongings in trade or provided the room for free. Ms. Redman and the Blue Swallow became icons of Route 66 folklore. She described the special and close connection she had with the Route 66 motorists who came in each night this way. "I end up traveling the highway in my heart with whoever stops here for the night."

At the end of the 1960s, Interstate 40, a better and faster highway, took the place of the old Route 66. The development of this new highway drastically changed the traffic circulation of Route 66 affecting many of the businesses along the way, including the Blue Swallow Motel. Ms. Redman said of the effect of Interstate 40, which bypassed Tucumcari, "When Route 66 was closed to the majority of traffic and the other highway came in, I felt just like I had lost an old friend. But some of us stuck it out and are still here on Route 66."

After owning the Blue Swallow for almost 50 years, Ms. Redman sold the motel in the late 1990s. Listed in the National Register of Historic Places in 1993, the motel continues to operate as a popular overnight destination. The motel received a Cost-Share Grant from the National Park Service Route 66 Corridor Preservation Program in 2007 for restoration of the neon sign, neon swallows, and office windows. 

The Blue Swallow Motel is located at 815 East Route 66 Blvd. in Tucumcari, NM. Visitors can still spend the night at the motel.

For more information, call 575-461-9849 or visit the Blue Swallow Motel website.

See the Blue Swallow Motel National Register nomination form. 
Last updated: June 6, 2022