Place
Blanche Kelso Bruce House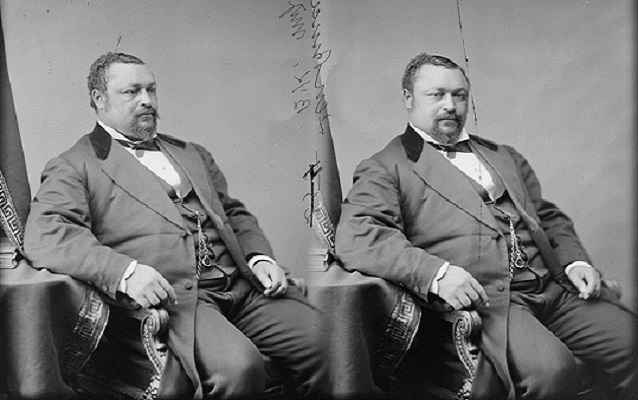 Location:
Northwest Washington, DC
Designation:
National Historic Landmark
Republican Blanche Kelso Bruce was the first African American to serve a full term in the U.S. Senate. He was also the only former slave to serve in the Senate. Bruce navigated Reconstruction with political shrewdness. He developed friendships with President Ulysses Grant, Frederick Douglass and Booker T. Washington. Bruce exhibited a steadfast determination to continue in politics even after Reconstruction ended. While serving in Congress, Bruce, and his wife Josephine, lived in a Second Empire-style brick rowhouse in the Shaw neighborhood of Washington, DC.
In 1841, Bruce was born a slave in rural Prince Edward County, Virginia. His father, Pettus Perkinson, who was white, owned his mother, Polly Bruce. Bruce learned to read and write from Perkinson's son, William. In 1849, Perkinson moved his plantation operation to Mississippi. At eight years old, Bruce started picking cotton and endured cruel punishments, including whippings. In 1850, Perkinson relocated again to Missouri. In 1862, Bruce decided to escape to Kansas.
After witnessing increased violence in Kansas, Bruce returned to Missouri where he established the first school for black children in 1864. Two years later, Bruce entered Oberlin College in Ohio, but insufficient funds forced him to withdraw. Bruce returned to Mississippi in 1869 and began to attend meetings of the Republican Party. That same year the Governor appointed him conductor of elections for Tallahatchie County. By 1871, Bruce was Superintendent of Education for Bolivar County. He created what were viewed as fair budgets in a segregated school system. Bruce also excelled as a businessman and became a prosperous landowner.
In 1875, Bruce was elected to the U.S. Senate. Despite his achievement, not all of his fellow senators accepted him. The senior Mississippi senator refused to mentor him. His politics were considered too radical in Congress. Bruce fought for African-American civil rights, in particular those of veterans. He also voted against the Chinese Exclusion Act which banned immigration of Chinese laborers. Finally, he condemned federal treatment of Native Americans. In 1878, Bruce, defying class and racial mores, married Josephine Beal Willson, a light-skinned socialite from an elite black family. The newlyweds bought a Shaw townhouse, built in 1873, to start their family. One year later, the Bruces named their newborn son after their longtime friend, Senator Roscoe Conkling of New York. 
By 1878, federal reconstruction policies ended. Protection of black political freedom and mobility stopped. For safety reasons, Bruce had to limit his trips to Mississippi. Racist codes and widespread violence barred many southern blacks from voting. Southern whites wished to "redeem" their governments from the Republican takeover. Because Bruce's elite status alienated him from his poor black constituents, and faced with the changing socio-political climate, Bruce chose not to run for office again in 1880. 
After the end of Reconstruction, presidential appointments became Bruce's only avenue to political positions. He remained in DC as the Register of the Treasury. He then became Assistant Commissioner General of the United States for the World's Fair at New Orleans in 1884. After a brief period in Indianapolis, the Bruces returned to Washington and bought another townhouse in Dupont Circle. In 1890, President Benjamin Harrison appointed Bruce as DC Recorder of Deeds. He also served as a trustee of the DC "colored schools" from 1890 until 1897. 
In 1893, Josephine helped found the Colored Woman's League with notable civil rights activist Mary Church Terrell. The women raised money and supplies for under-privileged African Americans. After another stint as Register of the Treasury, Bruce fell ill from kidney complications related to diabetes. He died March 17, 1898 at the age of 57. Three thousand people attended his funeral at Metropolitan A.M.E. Church. He is buried in the now inactive Woodlawn Cemetery, a segregated burial ground in Washington, DC.
Bruce and Josephine lived in the modest Shaw rowhouse during the end of his groundbreaking congressional tenure. The advent of black civil rights after the Civil War made Bruce's journey from slavery to the Senate possible. Most of these rights were subsequently lost after the end of Reconstruction. Bruce's life is representative of the perseverance of black people during the early years of Jim Crow. The house serves as a reminder of Bruce's significant accomplishments as an African American civil rights pioneer.
Sources:
"Bruce, Blance Kelso." US House of Representatives: History, Art & Archives.
Graham, Lawrence Otis. The Senator and the Socialite: The True Story of America's First Black Dynasty. New York: HarperCollins, 2006. 
Sutton, Robert K. and John A. Latschar, ed., The Reconstruction Era. Official National Park Service Handbook. Eastern National.
"Woodlawn Cemetery." Cultural Tourism DC.
National Historic Landmark Nomination of the Blanche K. Bruce House.
National Historic Landmarks (NHLs) are historic places that possess exceptional value in commemorating or illustrating the history of the United States. The National Park Service's National Historic Landmarks Program oversees the designation of such sites. There are just over 2,500 National Historic Landmarks. All NHLs are also listed in the National Register of Historic Places.
Last updated: August 11, 2017