Place
Bayard Rustin Residence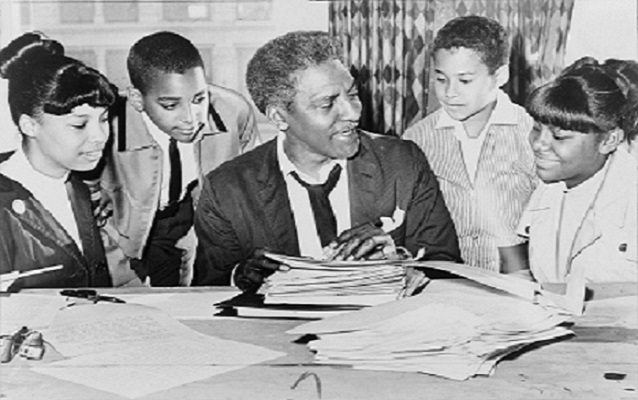 Location:
340 W. 28th St. New York City, New York.
Designation:
National Register of Historic Places
The Bayard Rustin Residence is significant as the most important resource associated with Bayard Rustin (1912- 1987), a person of great importance in American political and social history. Born in West Chester, Pennsylvania, Rustin lived a peripatetic life as a social activist and organizer, living intermittently in a number of different homes. In 1962, Rustin purchased apartment 9J in Building 7 of the new Penn South Complex in the West Chelsea section of Manhattan. This was his longest and most permanent place of residence as an adult. He lived there from September 11, 1962 until his death in 1987. In 1977, Bayard's partner, Walter Naegle, moved into the apartment; Naegle continues to reside there, preserving the apartment almost exactly as Rustin left it.

Bayard Rustin, a gay African American Quaker, civil rights advocate, proponent of non-violence, and campaigner for social and economic justice, had an impact on many of the nation's social justice achievements since the 1930s. Over his long life, he worked on important campaigns in non-violence, pacifism, civil rights, economic injustice, human rights, and LGBT civil rights. In the course of his quarter-century residence in Penn South, Rustin organized and led the August 28, 1963 March for Jobs and Freedom in Washington DC. He helped create and led for many years the A. Philip Randolph Institute, an organization which became central to creating jobs and justice for trade unionists. He became a restless world traveler for Freedom House, a Human Rights and voting rights advocacy organization, and for the International Rescue Committee, supporting refugee resettlement and support. In the mid-1980s he recognized the struggle for Lesbian and Gay civil rights and lobbied the New York City government to support the lesbian and gay rights bill. Rustin testified at city council meetings against efforts to attach amendments to the bill, writing Mayor Koch that the lesson he had learned in fifty years of fighting for human rights was that "no group is ultimately safe from prejudice, bigotry, and harassment so long as any group is subject to special negative treatment."

 
Property Name: Bayard Rustin Residence 
Reference Number: 16000062
State: New York
County: New York
Town: New York
Street Address: 340 W. 28th Street, New York City
Multiple Property Submission Name: N/A
Status: Listed 3/8/2016
Areas of Significance: Social History
The National Register of Historic Places is the official list of the Nation's historic places worthy of preservation. Authorized by the National Historic Preservation Act of 1966, the National Park Service's National Register of Historic Places is part of a national program to coordinate and support public and private efforts to identify, evaluate, and protect America's historic and archeological resources. 
Last updated: September 20, 2017