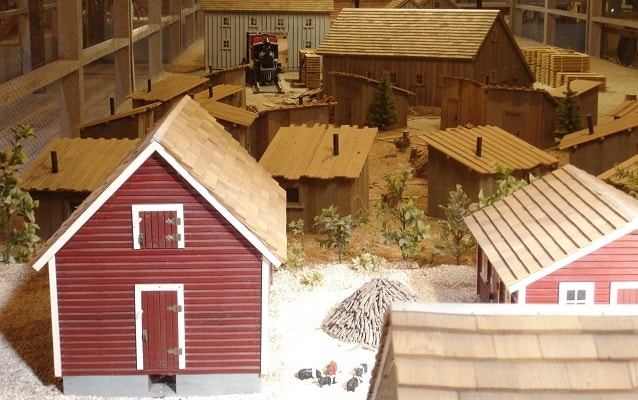 Location:
413 P Street, South Amana IA
Significance:
Miniature displays of agricultural life in the Amana Colonies
The Barn Museum is located in a restored barn from Amana's communal period. What was once a Gaustall (horse barn) is now the Barn Museum. This museum features the miniature woodcrafting of Henry Moore and is the largest known collection of miniatures made by one man. In the scale of one inch to the foot, Henry Moore built a unique world with dozens of buildings of both regional and national historic significance.
Amana Colony barns show strong German and American influence. Many were built into a gentle slope and had a one-story stone foundation and had an overshoot, or forebay, which offered the protection of one wall and a roof. Barns were built with wood and left unpainted, which weathered naturally into a light gray color. Large barns had lean-to's and other small structures added to them, giving them a variety of shapes, forms, and massing. Occasionally a scalloped apron under a porch eave, a weather vane on a roof, or wooden ventilators broke the severe structural lines of the simple barns.
The agricultural buildings, grouped together at one edge of the village, were dominant visual characteristics of the Amana villages. Farming techniques have greatly changed since the communal era, when oxen were still used on the farms as late as 1932. Today, farming remains the Amana Society's biggest business, with corn, soybeans, oats, and alfalfa crops, and Gelbvieh, Angus, and Charolais cattle raised in the Amana countryside.
Last updated: December 13, 2017