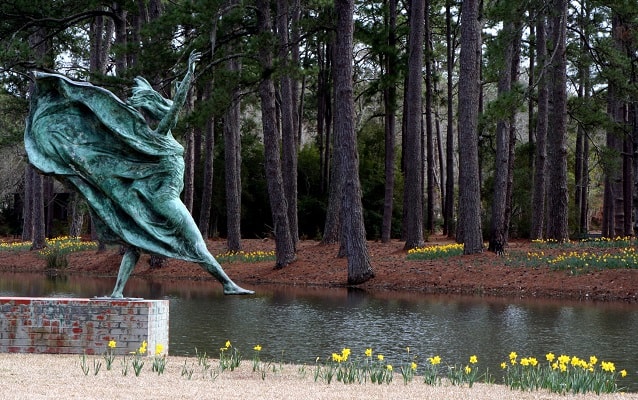 Quick Facts
Location:

Georgetown County, SC

Significance:

Home of female sculpture.

Designation:

National Register of Historic Places

OPEN TO PUBLIC:

No
Home of famous sculpture Anna Hyatt Huntington, the mansion was built in the 1930s. Called Atalaya, the property includes a 30-room home, several staff quarters, and a sculpture garden featuring Huntington's work. In addition to the extensive grounds, the property is located 150 yards from the ocean within the boundary of the Huntingtin Beach State Park in Georgetown County, SC.

Born in Massachusetts in 1876, Anne Hyatt developed an interest in animals from a young age. Her father was a zoologist at Massachusetts Institute of Technology (MIT). He encouraged his daughter's fascination with animal anatomy. Hyatt was particularly interested in horses and how they moved. Her early hobby of sketching horses influenced her later career as many of her statues capture horses in motion.

By her early 20s, Hyatt was already creating and exhibiting her own work. Over the next several decades, she continued to produce some of her most notable works and she even spent time sculpting in Paris. Hyatt was one of the few notable female artists at the time and she was able to earn a substantial income with her sculptures.

In 1923, Anna Hyatt married Archer Milton Huntington, who made a fortune from the railroad industry. Huntington, a lover of the arts, supported his wife's career. She in turn helped him established several museums across the United States.

While the couple lived in New York, they built Atalaya as their winter home. The house was designed with a library for Archer and an art studio for Anna. Their South Carolina home has one of the largest collections of American sculptures in the world.