Place
Arabia Mountain National Heritage Area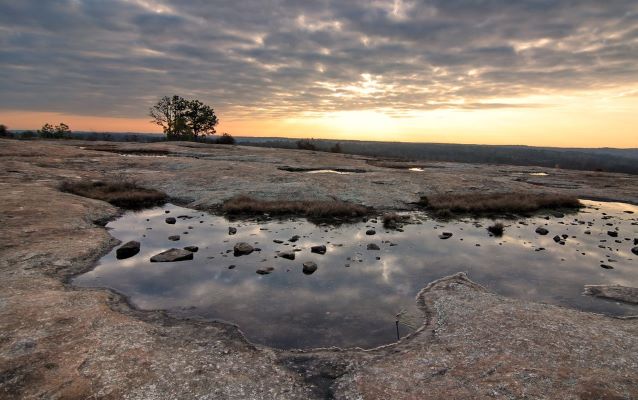 Significance:
Dominated by massive granite outcrops – called "monadnocks" – the Arabia Mountain National Heritage Area encompasses over 400 million years of natural and human history in the Georgia Piedmont.
Designation:
National Heritage Area
Breathtaking monadnocks are the cornerstones of the
Arabia Mountain National Heritage Area
(AMNHA), which serves to celebrate these otherworldly rock outcrops and the surrounding region as a recreational wonder and cultural treasure. Lying east of Atlanta, the AMNHA includes pristine natural areas, former quarry and agricultural sites, spiritual centers, historic communities and buildings. This patchwork of wilderness and former farmland began with the formation of the monadnocks, Arabia and Panola Mountains, about 400 million years ago. Human history in the area stretches back tens of thousands of years, with the South River acting as an important trading and settlement route for Native American societies. Following the ceding of Muscogee land to the U.S. Government in the 1820's, European settlers and enslaved Africans populated the landscape. An agricultural economy dominated the area for many years. Today, that rural history can been seen at Vaughters' Farm, a remnant of the area's once-booming dairy industry, and at Flat Rock. Preserved and studied by the Flat Rock Archives, this African-American community is one of the oldest in Georgia, surviving enslavement and marginalization to prosper in the deep south.
As well as agriculture, the quarry industry had a profound impact on the AMNHA. Quarries at and around Arabia Mountain extracted granite for construction and chicken feed well into the 20th century. Lithonia, meaning "city of stone" in Greek, grew into a bustling quarry town, with Lithonia granite sent off to build structures such as the U.S. Naval Academy in Annapolis, Maryland. The effects of the quarry industry remain visible at Arabia Mountain. Nearby Panola Mountain, meanwhile, was unfit for quarrying and today stands as a pristine National Natural Landmark. 
Southeast of Panola lies the Monastery of the Holy Spirit, a community of Trappist monks founded in 1944. This site of peace and beauty includes a poured-concrete abbey and over 2,000 acres of greenspace. Connected to the rest of the AMNHA by the South River, the Monastery of the Holy Spirit provides a place for peace and reflection in the midst of 400 million years of history.
Natural and human, ancient and timeless, the AMNHA captures a complex and vibrant part of the American story.
This Heritage Area includes the following sites:
Last updated: September 27, 2019