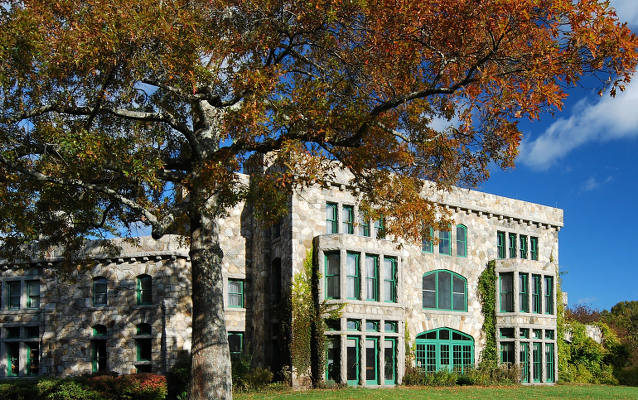 Location:
Easton, Massachusetts
Significance:
Part of the estate of Blanche Ames Ames, an inventor who was involved in art, farming, engineering and politics
Designation:
National Register of Historic Places as part of the Borderland Historic District
The Borderland Historic District was the 1,200-acre estate of Blanche Ames Ames, a multi-talented inventor who was involved in art, farming, engineering and politics. Blanche Ames' husband, Oakes Ames, came from a wealthy Massachusetts family that owned the Ames Shovel Company. Marrying in 1900, Blanche and Oakes constructed their stone mansion in 1910 and created a system of ponds and dams on their property. Blanche and Oakes, who wanted a fireproof house, became displeased with the work of their architect because of the challenges he faced with their design and engineering requirements. Dismissing the architect, Blanche took over the design and construction management of the mansion and hired the Concrete Engineering Company to draw plans according to her specifications. She also calculated the engineering measurements for the causeways and dams built on the ponds surrounding the mansion.
Once the mansion was completed, Blanche set up a full-size studio on the third floor of the house and maintained a workshop in which she and her brother, Adelbert Ames, developed a scientific color system for mixing paints. She became the sole illustrator of her husband's botanical books, including a seven-volume treatise on orchids. (Oakes was a renowned authority on orchids and taught botany at Harvard from 1900 until his retirement in 1941.) Also interested in farming, Blanche worked with the staff of the Borderland estate and devised plans for developing a larger, more disease-resistant turkey.
Involved in politics, Blanche was the co-founder of the Birth Control League of Massachusetts and the Treasurer of the League of Women Voters from 1915 to 1918. She also gained notoriety for her political cartoons depicting the struggle for women's suffrage. In addition to these many accomplishments, Blanche was an inventor who, in 1939, designed a hexagonal lumber cutter. During World War II she designed, tested and patented a method for ensnaring enemy airplanes in wires hung from balloons. Remaining active her entire life, Blanche received a patent for a water anti-pollution device in 1969, a year before her death.
Last updated: March 19, 2019