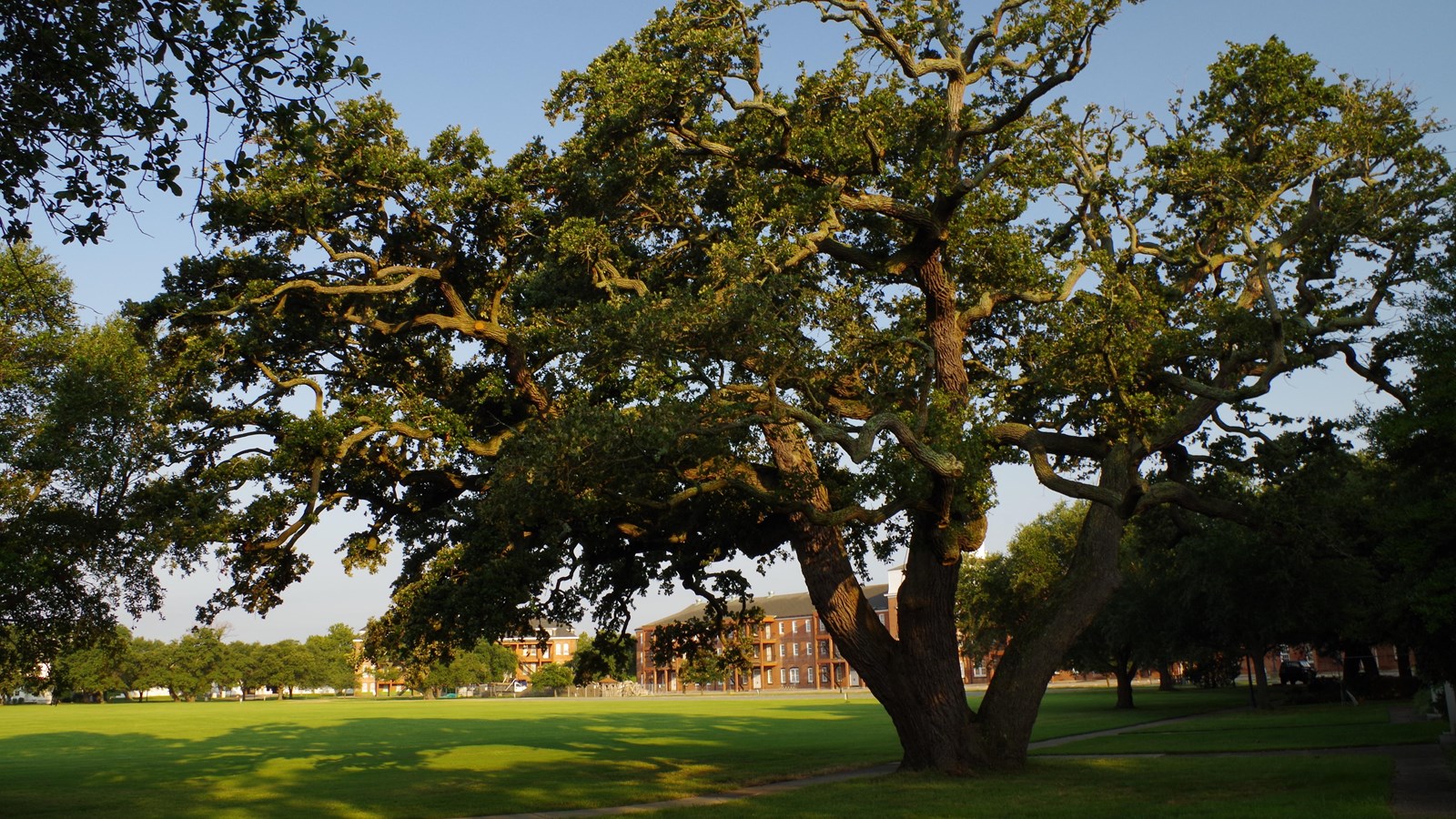 Cellular Signal, Trash/Litter Receptacles, Wheelchair Accessible
Opposite the "Lincoln Gun" on the eastern part of Fort Monroe's Parade Ground, stands the Algernourne Oak. This impressive live oak is firmly rooted in the history of Virginia, and the United States as a whole. Named after Fort Algernourne (the first English fort in Virginia) this oak is estimated to be approximately 500 years old. This tree has born witness to the history of Old Point Comfort since the days when only the American Indian walked these grounds and everything since. American Indian presence; Militarization; Conflict; Technological advancement; Enslavement; Freedom; the Algernourne Oak has seen it all and continue to offer us reminders of who we were and who we strive to be.

In 1619, a Dutch ship forcibly brought the first enslaved Africans to English North America, beginning the long history of race based slavery in Virginia. The Algernourne Oak bore witness. Devastating weather systems and storms that ravaged and changed the physical landscape of the area many times. The Algernourne Oak bore witness. The attack and siege of a foreign power against the young United States that would capture and extinguish the Old Point Comfort Lighthouse, threatening the sovereignty of the country itself. The Algernourne Oak bore witness. The construction of the largest masonry fortification every constructed in the United States and the shining example of the power of the Third System of fortifications. The Algernourne Oak bore witness. In 1861, 242 years later, three gentlemen – Frank Baker, Shepard Mallory, and James Townsend – escaped their enslavement and risked everything to find refuge within United States lines at Fort Monroe. Crossing from the Main Gate to Quarters No. 1, these three men passed the Algernourne Oak in route to an interview with Major General Benjamin Butler, commander of Fort Monroe. The Algernourne Oak bore witness. In 2020, the Algernourne Oak remains firmly rooted in the past of the US while continuing to witness the developments of progress, technology, racial, society, and social equality. The live oak symbolizes the representative republic values crafted in the eighteenth century and defined and redefined with every new passing generation. With each coming season the continued life and regrowth of this storied resident of Fortress Monroe serves as a beacon and symbol of the advancement of the United States and the establishing society that continues to evolve.
Last updated: April 1, 2021