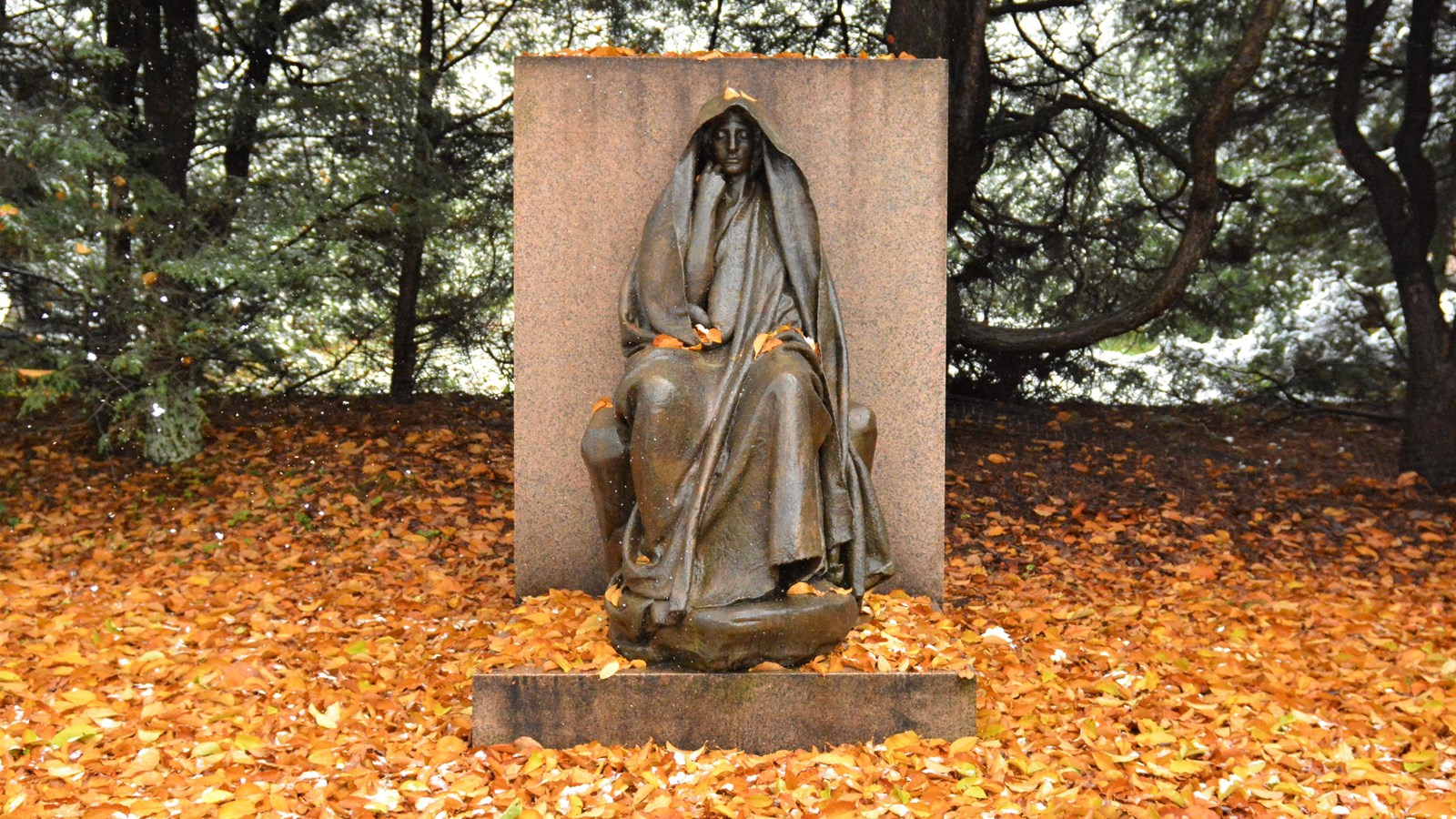 The right hand grazes the edge of a long face shrouded by flowing drapery. The hood casts a dark shadow. The eyes look heavy. The gender is undefined. This figure marks the grave of Marian "Clover" Hooper Adams (1843-1885) in Washington, DC. The piece by Augustus Saint-Gaudens (1848-1907) reflects a search for fundamental truths amid personal tragedy and a changing world.

Marian "Clover" Hooper Adams was born to a prominent Boston family and married one of the remaining descendants of an American political dynasty. This member of elite social circles was known for her wit, intelligence, and athleticism. She became a skilled photographer. However, Adams also experienced the isolation of gender constraints by those around her. Henry Adams (1838-1918), her husband, was a sharp cultural critic and eclectic intellectual. In 1877, the couple moved to a home along Lafayette Square in Washington, DC.

In 1885, Clover Adams died by suicide after suffering from depression. Henry Adams was inconsolable with grief, guilt, and the stigma of suicide. He hardly spoke of his late wife again and only broke his silence by commissioning this piece of art.

In the wake of her death, Henry Adams traveled to Japan. There, he was drawn to Buddhist philosophy and iconography relating to Nirvana, a transcendent state beyond suffering. He requested that Augustus Saint-Gaudens express this philosophy in a memorial to his late wife. The sculptor noted in his sketchbook the phrases: "Adams – Buhda[sic] – Mental Repose – Calm reflection in contrast with the violence or force in nature." In 1891, the finished work was installed near the gravesite in Rock Creek Cemetery. There is release and detachment in the figure's expression, but there exists a palpable sorrow as well.

The figure marked the grave of Marian Adams without depicting her likeness or stating her name. Saint-Gaudens referred to his work as "The Mystery of the Hereafter and The Peace of God that Passeth Understanding." Henry Adams was adamant that the sculpture remains nameless. The timelessness and enigma of the personal memorial stood in opposition to the popular belief in progress and rationality during the Gilded Age. The artist "meant it to ask a question, not to give an answer," Adams explained. This sculpture continues to be a source of contemplation for people of all backgrounds. "Like all great artists, St. Gaudens held up the mirror and no more." This recasting was installed amongst the hedges in 1972.

The National Suicide Prevention Lifeline is a hotline for individuals in crisis or for those looking to help someone else. To speak with a certified listener, call 1-800-273-8255.
Last updated: November 7, 2021