Place
YARTS Stop: Yosemite Valley Visitor Center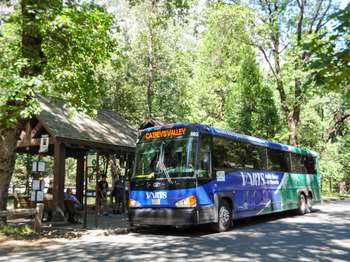 Public Transit, Recycling, Trash/Litter Receptacles
Save gas, save time, save money, by taking YARTS!

The Yosemite Area Regional Transportation System (YARTS) is a regularly scheduled, fixed route, public transit system that operates year-round in the Yosemite region.

YARTS provides service into Yosemite National Park and gateway communities in comfortable, air-conditioned buses. Ride YARTS to avoid traffic and safely enjoy the scenery instead of watching the road.

All bus routes provide service to the Yosemite Valley Visitor Center in Yosemite Valley.

Purchase tickets on the bus with cash (exact change only), or with Visa, Mastercard, or Discover cards, or purchase online . All YARTS tickets include the entrance fee to Yosemite.



Hours:
Year-round
Seven days a week. See website for schedule.

Getting Here:
Located in front of the Yosemite Valley Visitor Center, near shuttle stops 5 and 9.

Rules & Regulations:
Bags are allowed on YARTS buses, including backpacks of any size. Some backpacks may need to be stored in compartments under the passenger seating.
Bikes are allowed in the storage compartments under the bus, as space allows. Bikes can also be rented inside Yosemite National Park.

Hazards & Warnings:
YARTS does not provide pick up service anywhere other than designated stops, due to narrow roads.

Accessibility:
All YARTS buses are wheelchair accessible. However, this is on a per-ride basis and is dependent upon seating locations on the bus. Please contact YARTS 48 hours prior to your boarding, and we'll help make sure your ride is accessible.

Phone: 877/989-2787,
7 am - 6 pm Pacific Time (U.S.)

Service animals are allowed on all YARTS buses.
Last updated: November 7, 2021