Place
Fairfax Quaker Meeting House in Waterford, Virginia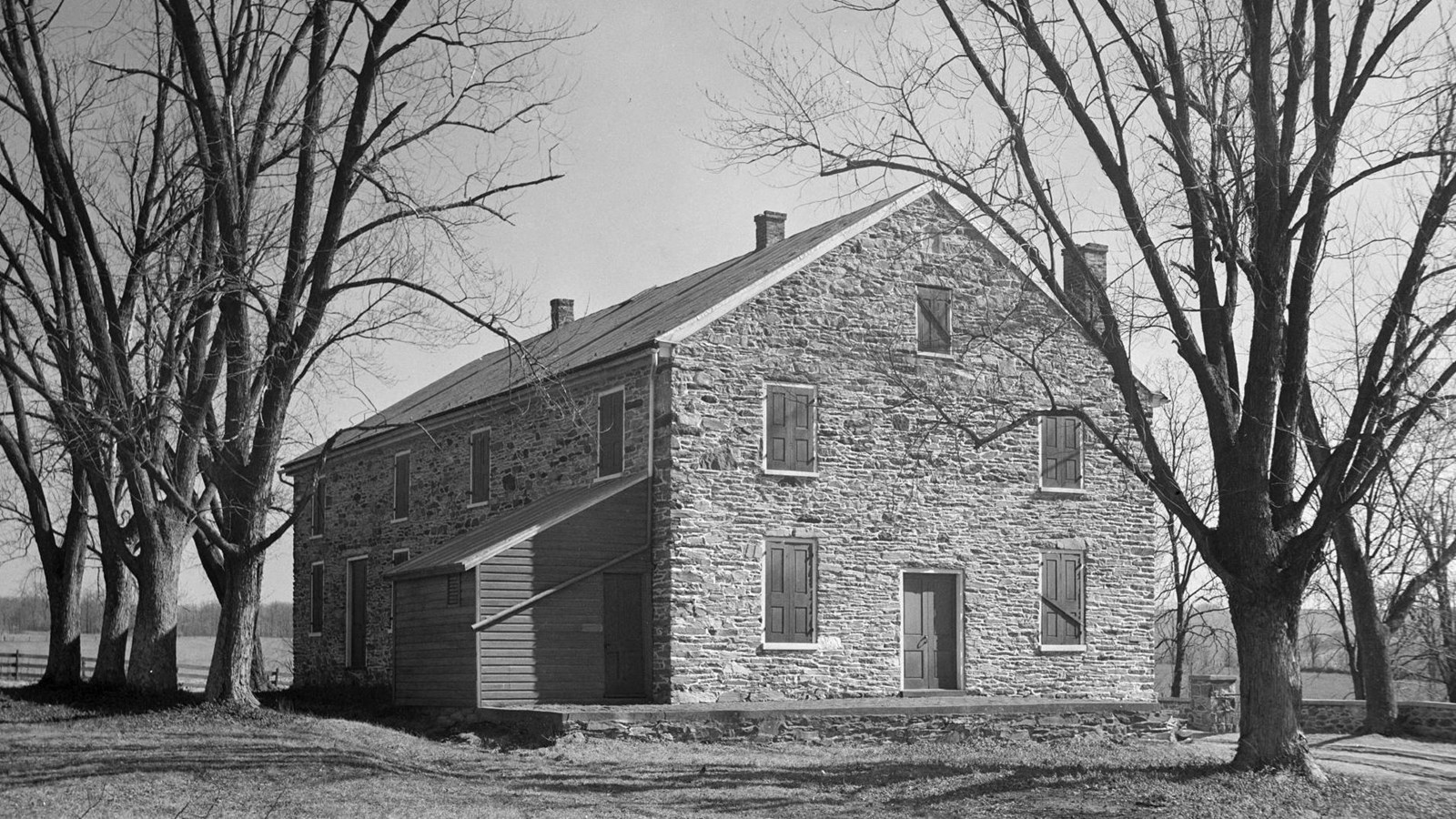 Location:
Waterford, Loudoun County, Virginia
Designation:
National Historic Landmark
Also known as the Friends Meeting House and the Quaker Meeting House, the Fairfax Meetinghouse is located east of the intersection of Loyalty Road and the Old Waterford Road in the village of Waterford, Virginia. A large cemetery surrounded by a stone wall is located to the south of the meetinghouse. The Quakers who founded Waterford constructed a log meetinghouse on this site around 1741. They replaced the first meetinghouse with the eastern half of the present stone building in 1761. The Quakers doubled the size of the building with an addition to the west in 1781. A fire destroyed the original hipped roof in 1868. By 1929, the Waterford Quakers merged their meeting with the meeting in nearby Lincoln due to their dwindling membership. In 1939, architect Allen McDaniel converted the Fairfax Meetinghouse into a dwelling in an early example of adaptive reuse. The meetinghouse remains in use as a private dwelling. 
The Fairfax Meetinghouse is a two-story stone building located at the top of a small hill. The front elevation of the meetinghouse overlooks the Quaker cemetery to the south of the building, and the rear of the building faces Loyalty Road. Today the meetinghouse is seven bays in length. However, the 1761 meetinghouse was only three bays in length (the first three bays to the east). This earlier meetinghouse configuration is visible on the south elevation, the original 1761 windows have stone segmental arches above the window openings. The other four bays were added to the meetinghouse in 1781. This addition doubled the space on the interior. This addition also added a second entry door. Having two entrances was typical for Quaker meetinghouses from this time—one door provided entry for male congregants, while the other served the female ones. 
 
Fairfax Quaker Meeting House is a contributing resource within the National Historic Landmark Waterford Historic District. National Historic Landmark Nomination
National Historic Landmarks (NHLs) are historic places that possess exceptional value in commemorating or illustrating the history of the United States. The National Park Service's National Historic Landmarks Program oversees the designation of such sites. There are over 2,600 National Historic Landmarks. All NHLs are also listed in the National Register of Historic Places.
Last updated: February 17, 2022