Place
Upper Terrace Drive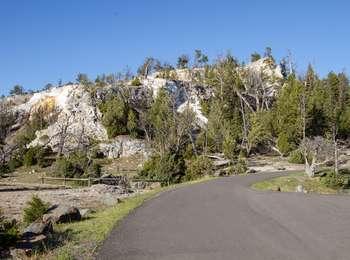 Location:
Mammoth Hot Springs
Historical/Interpretive Information/Exhibits, Scenic View/Photo Spot
Upper Terrace Drive is a one-way, scenic, 1.5-mile (2.4-km) long road that winds among hot springs and travertine formations.
Trailers, buses, and motor homes are prohibited on the drive due to limited parking and a narrow, winding roadway. Park these vehicles in the lot at the drive's entrance, then enjoy the Upper Terraces on foot.
Note: The Upper Terrace Drive becomes a groomed, cross-country ski trail in winter.
Mammoth Hot Springs
A network of fractures and fissures form the plumbing system that allows hot water from underground to reach the surface at Mammoth Hot Springs. Small earthquakes may keep the plumbing open. The water comes from rain and snow falling on surrounding mountains and seeping deep into the earth where it is heated.
The volcanic heat source for Mammoth Hot Springs remains somewhat of a mystery. Scientists have proposed two sources: the large magma chamber underlying the Yellowstone Caldera or a smaller heat source closer to Mammoth.
For hundreds of years, Shoshone and Bannock people collected minerals from the Mammoth Hot Springs terraces for white paint.
Travertine Terraces
Travertine terraces are formed from limestone (calcium carbonate). Water rises through the limestone, carrying high amounts of dissolved calcium carbonate. At the surface, carbon dioxide is released and calcium carbonate is deposited, forming travertine, the chalky white rock of the terraces. Due to the rapid rate of deposition, these features constantly and quickly change.
Accessibility
For wheelchair-accessible views of the hot springs, enter the drive and proceed a short distance to the designated parking area on the left; the boardwalk begins on the right. Continue 0.7 miles (1.1 km) around the drive to Orange Spring Mound, which has wheelchair accessible parking and a short boardwalk to an exhibit. Recreational vehicles and vehicles towing trailers are not permitted due to the steep and narrow roadway.
Use Caution in Hydrothermal Areas
Stay on boardwalks and designated trails.
Hydrothermal water can severely burn you.
Never run, push, or shove.
Supervise children at all times.
Do not scratch hydrothermal mats.
You are responsible for your safety.
Think safety, act safely. Yellowstone is a dangerous place.
Last updated: February 1, 2021