Place
Trinity Church Cemetery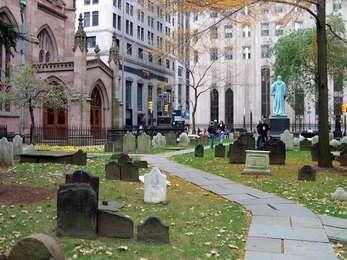 This burial ground has been the final resting place for many historic figures since the Churchyard cemetery opened in 1697. Alexander Hamilton is laid to rest at Trinity Church, as well as his wife Eliza Hamilton. However, three years before Alexander Hamilton and Aaron Burr met on the dueling grounds in Weehawken, New Jersey, Hamilton's son Philip also engaged in a duel regarding remarks made about his father. Philip lost the duel and his life. He is recorded in the burial register for Trinity Church, but no burial location is given. It's thought that perhaps due to the dishonorable nature of his death, he was buried in an unmarked grave, or outside the bounds of the churchyard. The location of his grave remains a mystery. The New York Society of the Cincinnati, who erected a plaque in memory of Hamilton, and other members of the Society are interred at Trinity parish, including General Horatio Gates, the leader of the Battles of Saratoga. Robert Fulton, inventor of the steam boat is also buried here.
Alexander Hamilton's Grave
Hamilton's funeral procession from the Church home to Trinity Church in downtown Manhattan. Thousands of people showed up for Hamilton's funeral procession on July 14, 1804 to mourn his passing.
Last updated: July 16, 2021