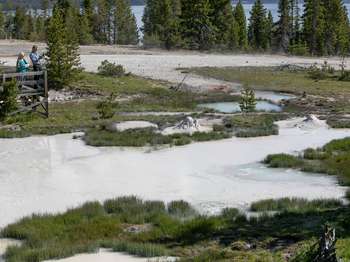 Location:
West Thumb Geyser Basin
A collection of mudpots.
Mudpots
Mudpots are acidic features with a limited water supply. Some microorganisms use hydrogen sulfide, which rises from deep within the earth, as an energy source. They help convert the gas to sulfuric acid, which breaks down rock to wet clay mud and creates the area's smell. The pungent odor of rotten eggs is caused by the hydrogen sulfide gas.
Various gases escape through the wet clay mud, causing it to bubble. Mudpot consistency and activity vary with the seasons and precipitation.
Use Caution in Hydrothermal Areas
Stay on boardwalks and designated trails.
Hydrothermal water can severely burn you.
Never run, push, or shove.
Supervise children at all times.
Do not scratch hydrothermal mats.
You are responsible for your safety.
Think safety, act safely. Yellowstone is a dangerous place.
Last updated: March 24, 2022