Place
Tenaya Lake Picnic Area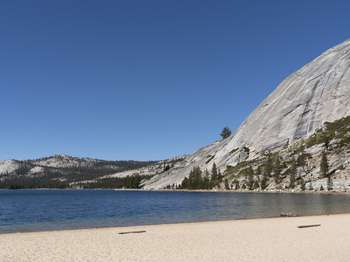 Historical/Interpretive Information/Exhibits, Picnic Table, Recycling, Restroom, Trash/Litter Receptacles
Enjoy this magnificent high-country lake surrounded by granite domes, lodgepole forests, and Yosemite's vast wilderness.

Picnic tables are available at this pleasant spot near Tenaya Lake.

Hours
Tioga Road is open to vehicles from late May or early June to sometime in November.

Getting Here
Located along Tioga Road a little less than 7 miles (11 km) west of Tuolumne Meadows.

Rules & Regulations
Picnic areas are available on a first-come, first-served basis (reservations are not available).

Hazards & Warnings
For your safety and that of wildlife:

Keep your distance from animals, even if they approach you.
Never feed wild animals.
Dispose of trash in bear-proof trash cans or dumpsters.
Keep your food, trash, and other scented items within arm's reach.
If a bear approaches, yell as loudly as possible to scare the bear away.

Accessibility
The Tenaya Lake Picnic Area features a few accessible picnic tables with extended tops, an accessible restroom, and an accessible path that leads to great views of Tenaya Lake. Designated accessible parking spaces are available.
Last updated: March 24, 2022